Share International

magazine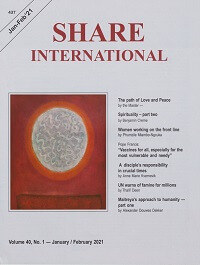 Share International
magazine brings together two major directions of contemporary thought – the political and the spiritual. It shows the synthesis underlying the political, social, economic and spiritual changes now occurring on a worldwide scale and seeks to stimulate practical action to rebuild our world along more just and compassionate lines.
Table of Contents
of the current issue.
We offer this list of previous articles to see what you may have missed.
To order
Share International
magazine with a check or money order, please read the instructions at the bottom of the page. You can also purchase a NEW 1- or 2-year subscription, RENEW an existing 1- or 2-year subscription, or send someone else a 1- or 2-year gift subscription using
VISA, Mastercard, American Express, Discover
or
Paypal
, or
debit
. Select from the following options to begin:
Start a NEW (personal or gift) subscription
I will be purchasing a:
Subscription for myself
Gift subscription for someone else
*Make my gift anonymous:
* = required
Gift Recipient's Name & Address
*Email of Gift Recipient:
RENEW an existing subscription
I will be purchasing a:
Renewal subscription for myself
Subscription # (if known):
Renewal gift subscription for someone else
Subscription # (if known):
* = required
Gift Recipient's Name & Address
*Email of Gift Recipient:
Send a subscription ADDRESS UPDATE
Enter your updated address using the form below
Please provide the gift recipient's address if this is a gift subscription
Subscription #

(if known):
Ask a QUESTION about subscriptions
Send us a question using the form below
* = required
Share International covers news, events, and comments bearing on the priorities of Maitreya, the World Teacher: an adequate supply of the right food; appropriate housing for all; health care and education as universal rights; and the maintenance of ecological balance in the world.
The magazine is published monthly, except bimonthly in January/February and July/August of each year. A complete translation is available in French, Japanese and Slovenian, with abridged versions appearing in Dutch and German. Contact information for translations will be found here.
The views expressed by authors other than Share International correspondents do not necessarily reflect those held by the editors of this magazine.
By the same token, interviewees and authors other than our own correspondents do not necessarily subscribe to or support the information and approach which form the basis and context of this publication.
Founding editor: Benjamin Creme
Chief Editor: Felicity Eliot
Production and Administration:
Share International teams in Amsterdam, London and in the USA
Subscription Rates for those living in the countries specified:
US$38.00 – USA, Canada, Central/South America, Australia, New Zealand & the Philippines

We will be transitioning to an online subscription management system during the last quarter of 2021. After that, we will no longer be able to accept checks as payment for magazine subscriptions, but will move to an online payment system with a variety of options for subscribers. At present, the most efficient method of payment is through the online link above. However, and for a short time, you can still make your check or money order (with clearance through a US bank) payable in US dollars to Share International USA and mail your subscription request to:
Share International USA
PO Box 19556
Boulder, CO 80308
USA
Donations: visit our Donate page to make a donation with your credit card.
---