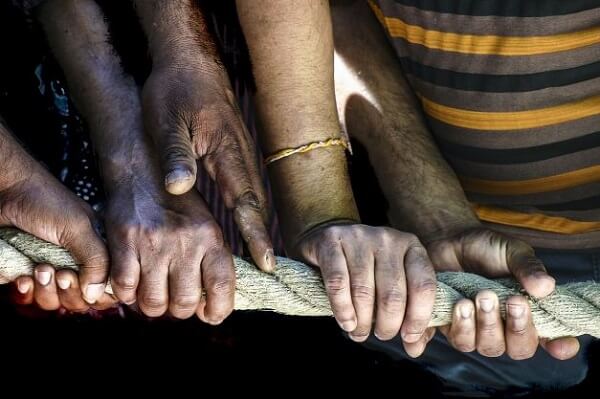 Pixabay: Céline Martin
Co-operation
by the Master —, through Benjamin Creme
Humanity today stands poised for a great leap into the future, a future in which man's essentially divine nature will demonstrate. Little though he may know this, man has passed and is passing the tests which will allow him, in full adulthood, to become the recipient of knowledge and powers with which to fashion that future.
At present, only to the inner vision of the Guides of the Race may this reality be clear, but such it is, and portends well for the coming time. Wherever men gather today, can be seen and felt a new urgency, a new sense of commitment to the well-being of the planet and its kingdoms.
Only now, after aeons spent in the struggle for existence and progress, can man be said to have reached maturity, a maturity discernible to Us, albeit well hidden from man himself.
The opportunity arises now for a major advance in human progress, outstripping by far, in speed and accomplishment, all previous advances. Whereas, until now, a slow and steady progress was desirable, and even preferable, a new, dynamic rhythm is being created whose momentum will sweep humanity into the future on a wave of global change. So great are the tensions in today's divided world that only a rapid change of direction will prevent catastrophe. This rapid change, there is no doubt, will present problems of adjustment to many, but many more, by far, will welcome these changes as the opportunity for new life.
We, the Toilers behind the scenes, have every confidence that humanity will set in motion this radical transformation of its structures. They no longer serve man's needs and block the emergence of the new. We watch and guide, overseeing all.
Little by little, a new consciousness is awakening humanity to its inner needs. The old, competitive spirit dies hard, but nevertheless a new spirit of co-operation is likewise to be seen. This augurs well for the future, for it is by co-operation alone that mankind will survive; by co-operation alone that the new civilization will be built; by co-operation only that men can know and demonstrate the inner truth of their divinity.
Co-operation is the natural result of right relationship. Right relationship likewise follows wise co-operation. Co-operation holds the key to all successful group effort and is a manifestation of divine goodwill. Without co-operation nothing lasting can be achieved, for co-operation brings into synthesis many diverse points of view.
Co-operation is another word for Unity. Unity and co-operation are the springboards to the future and the guarantee of achievement for all men. Great reservoirs of power lie untapped within humanity, waiting for the magic of co-operation to unleash.
Competition strains the natural order; co-operation liberates the goodwill in men. Competition cares only for the self, whereas co-operation works for the highest good of all.
Competition leads to separation, the origin of all sin; co-operation seeks to blend and fuse the many-coloured strands of the one divine life.
Competition has led man to the precipice; co-operation alone will help him find the path.
The old and backward-looking love competition; the new embrace with joy divine co-operation.
The people of the world can be divided into two kinds: those who compete, and those who co-operate.
Cleanse the heart of the stain of competition; open the heart to joyful co-operation.
* The words 'men' and 'man' are used throughout the Master's articles as general terms meaning humankind.

Co-operation to share Maitreya's priorities
The past three years of pandemic have restricted many of our usual forms of outreach, and we seek new opportunities to introduce the Reappearance message and Maitreya's priorities. Co-operation once again offers a brilliant solution. In the July/August 2022 issue of

Share International

, Benjamin Creme's early (1970s) correspondence with other spiritually-oriented groups and a member of the UK Parliamentary Group were reproduced. In 2021, inspired by this approach, co-worker Andreas Beck (living in South Tyrol, Italy) started putting into practice a form of Emergence work based on co-operation with other groups. He named the project "Save our Planet Talks – Spirituality Meets Activism." See below in our Network News and Events section for more on Andreas' work. See also our August 2022 newsletter for an excerpt from BC's correspondence.
Paul Harvey was a popular American radio broadcaster for ABC News Radio. From 1951 to 2008, his programs reached as many as 24 million people per week. He was also the recipient of the Presidential Medal of Freedom in 2006. "Letter from God" was presented by Harvey as an admonition from the Most High to stop creating divisions among people in His name and to love one another as the only 'religion' needed. Its universal message seems even more urgent today.
The art of co-operation
| | |
| --- | --- |
| " | When men co-operate rather than compete, they will find a magic potion entering their lives. The ease with which long-lasting problems will be solved will astonish, the impossible will yield to the lightest touch, and, through co-operation alone, men will learn the true art of living. Thus will it be, and thus will men learn to appreciate the beauty of relationship which only co-operation can bestow. Through co-operation the new civilization will be built, the new science revealed, the new understanding manifested. Thus will men grow together in the discovery of their divinity. Thus will they know the joy and happiness of such togetherness. |
— From

A Master Speaks, Volume One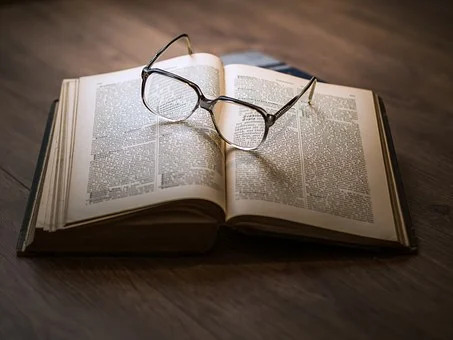 The Share International USA online 'bookstore' carries all of Benjamin Creme's print, audio and e-books, CDs & DVDs, and free downloads of four key titles.
For a limited time offer purchase A Master Speaks, Volume One (paperback or e-book) and receive 50% off through January 31st. Simply enter the discount code AMS150 at checkout.
Order with all major credit cards at the Storefront, share-ecart.com. Checks and money orders are no longer being accepted. If you have questions, please use our contact page.
Share and Follow us on Facebook!
Our USA Facebook page has over 300 ready-made posts with beautiful images, timely quotes and links to the source of the quotes in Benjamin Creme's books and Share International magazine -- a post to share almost every day of the year. Don't wait for the one we send each month! Go to the Share International USA Facebook page, scroll down to 'Photos' and click 'See all'. When you click on your choice for today it will open up ready to share. In these difficult times, we urge you to post these reassuring quotes regularly.

These images are meant to be shared 'as is.' Please do not edit them in any way.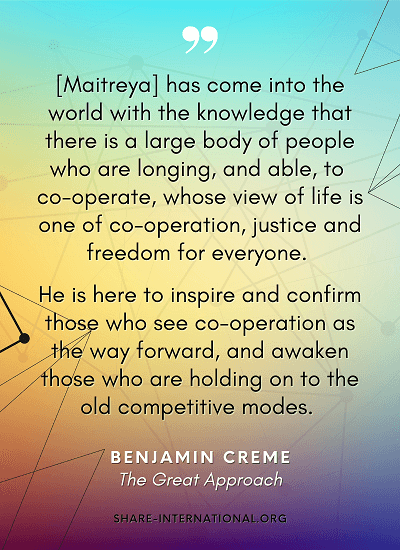 Share International LIVE

webinars offer programming in three series: (1) The Imperative of Change: Towards a sane and just world; (2) The Reappearance of Maitreya the Christ and the Masters of Wisdom; (3) Interviews and dialogues with a variety of interesting people working on various fronts to improve the quality of human and planetary life. Watch for announcements of upcoming programs for 2023.
A few of the past webinars are also posted on the Share International LIVE website –

another opportunity for you to share this information

.
North American programming:
The following events present wide-ranging information about the emergence of Maitreya and the Masters of Wisdom. Their content offers perspectives on how this is impacting our world today.

Please pass this information on to some new people

:

•
"What in the World is Happening?" – a monthly webinar.

Saturday, January 14

– "The Evolution of Humanity – Stepping into our Divinity, part 2"
To watch the

livestream

: Facebook, YouTube, or Register for Zoom link.
Many past episodes are available from Facebook and YouTube.


•
"Planetary Makeover" – A collection of audio and video interviews on a wide range of topics.

| | |
| --- | --- |
| ▪ | "It's True — Jesus and Maitreya Are Here to Help Earth and Everyone on It!" |
| ▪ | "The Media is Blocking the Biggest News Yet!" |

Scroll down to view these and other shows.
https://planetarymakeover.org/all-videos
Spirituality meets Activism
(continued from

Share International

magazine section above)
"In this form of Emergence work there is a moderator who interviews an activist presenting his or her message, and myself. I present our information – Benjamin Creme's message. In this workshop, which is a sort of platform or round table event, our aim is to find links and similarities between our information, our view of spirituality, and that of people working as activists in general. This is such a great way of working:

•
It puts into practice co-operation with other groups. And so Benjamin Creme's information reaches activists and their networks who may not normally attend a lecture based solely on spirituality.
•
It is in accordance with the energies of Aquarius, the energies of Synthesis, because this project or kind of workshop or sharing platform blends together an activist's point of view and a spiritual message.
•
It brings together the inner (spiritual) and outer (activist) way of working for a better world.
•
We get to know activists, constructive people, and work together with them. In this way, a network of people working for the positive forces is being created." [Andreas Beck]

If you would like to be put in touch with Andreas, use this

Contact page

. Your email will be forwarded.

While Benjamin Creme always emphasized that

our

work is to tell the world about the return of the Masters and Their priorities, it does not need to be to the exclusion of all co-operative efforts with the work of other groups. Simply joining in the activities of groups whose work you support builds friendships and provides opportunities to share values, information and goals.
And just to reinforce that point …
| | |
| --- | --- |
| | At a VegFest booth in Atlanta, GA in November 2019 a visitor presented himself as a 'program developer': programs about energy and synergy. He claimed to teach at both MIT and Stanford but taught both academics and ordinary people. "I teach energy first because they must know about energy before they can understand about oneness and synergy." Looking at the group's banner he made the following suggestion: "If I were telling the story, I would say 'If you believe in justice, equality, and peace, we invite you to join us. We can do so much more together. This is synergy!'" In parting, 'Ron' offered: "There is a tsunami coming! A tsunami-like wave after wave." When asked again for his name he said "Ronnie Tsunami." [This meeting took place just three months before the Covid 'tsunami' began to overtake the world. Group members had no doubt that 'Ron' was a very special visitor.] |
SI Outreach Cross-Pollination Workshop
On December 3

rd

a group of Share International co-workers from several countries met on Zoom to brainstorm ways to outreach in the current environment. These sessions have historically been part of the annual USA Network Conference, but Zoom technology allows it to take place any time and include more participants. More than 17 topics were initially proposed for the agenda, but resulted in far more ideas being discussed. There was a mix of what a co-worker without a group can do on their own and what groups collaborating – even across countries -- can accomplish. A video and various materials were shared. Future meetings are planned to further develop many of the ideas. If you are a Share International co-worker and would like an invitation to the next meeting, make this known on our Contact page. The group's facilitator will be in touch with you.