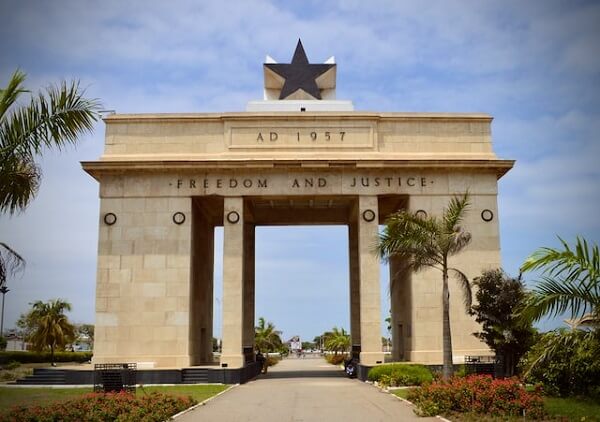 God's Representative
by the Master —, through Benjamin Creme
Whenever man is bereft of hope, seeing no way forward, no way to solve his problems, he sets up an instinctive cry for succour, an appeal to God to help him in his anguish. Thus it was during the war years earlier this century [20th century] that the travail through which humanity was passing invoked the Christ, called Him forth once more into the world. Never before, through all vicissitudes, has so much depended upon His coming, for never before has man controlled such forces of destruction.
Today, the nations are divided, as ever. Each claims to be the repository of the world's wisdom, offering men the choice between freedom and justice. How absurd it is that men should be proffered such a choice. Freedom and justice are divine and that divinity is indivisible. There can be no freedom without justice, no justice bereft of freedom. Shortly, men will be offered the opportunity to end for ever this travesty of truth and so heal the breach between the nations. It requires but the simple realization that all men are divine and have the same divine right to share in God's gifts and plans. Lacking such realization men would know no peace.
When men see the Christ they will realize that they are not alone, that God's Representative has answered their call and returned to help them. He will remind them of their source in Divinity and of their kinship, brothers all. He will place before them the choices for the future and exercise His right of counsel. He will outline the steps towards a better life for all, a life more in keeping with the spiritual nature of man. He will teach and lead and thus change the world through the actions of men.
At first, progress may be slow as men grow accustomed to the benefits of change but in due course the pace will quicken until all is caught up in a ferment of change. Naught can stop this process, for it finds its origin in the Mind of God. Naught can for long resist the magnet of God's Plan.
Without doubt, the greatest hindrance to the Plan's successful working is the present insecurity of men. They see around them a hostile world, feel threatened on all sides by penury and want. The nuclear threat hangs heavily over all. The counsel of Maitreya will show men that they have nothing to fear but their fear. That a blessed future awaits man if he will but act in his own best interests. That the Intention of God is man's greatest good. He will show that men must act to create the world they want; that He comes not to save but to point the way. He will empower all who take upon themselves the burden and joy of service. He will anoint all who share His burden.
The upholders of the old sense the danger but fight a losing battle. They seek to strengthen the walls of their citadel in vain. Their ramparts weaken as the tide of justice turns. Their buttresses betray them as men strike out for freedom. Into this turmoil Maitreya has come, to put His divine resources at the service of man.
* The words 'men' and 'man' are used throughout the Master's articles as general terms meaning humankind.

In the October issue
"We all know that most of our systems are so broken that we urgently need to create new ways of organizing society. This month's articles highlight the cracks in the structures and point to new ways forward but start by pinpointing the mistakes and inherent weaknesses in our economic, political, industrial, educational, ecological standards. Cher Gilmore's review of

Limits and Beyond

is a very timely reminder of warnings not heeded in the past but that must be understood now. The Point of View article: 'Blame Wall Street' does just that: putting the blame on Big Money and the extremes of the capitalist system. This issue also shows the innate spiritual and psychological response of humanity to troubled times – our instinctive appeal to a higher power, although our actions remain driven by fear and uncertainty. … How to make the needed changes is extraordinarily simple – we must create the kind of world we want, one that serves the common good." [Excerpts from the Editor's review of the issue.]
Benjamin Creme describes energy from a spiritual, esoteric point of view and speaks on the reality and nature of the angelic kingdom.
Attributes of the Aquarian Age
| | |
| --- | --- |
| " | The outstanding quality of the energy of Aquarius is synthesis, hence the result of its action will be a blending and fusing of the present divided and separative humanity into a whole. A new sense of oneness (with all creation) will replace the present sense of separation. In the social and political sphere this will demonstrate as brotherhood, justice and sharing. The present fear and confusion will give way to a new freedom and sense of meaning and purpose in life. It will be an age in which humanity — for the first time as a whole — realizes and manifests its inherent divinity. Co-operation will replace competition; tolerance and goodwill will supersede division and hate. |
— From

Maitreya's Mission, Volume One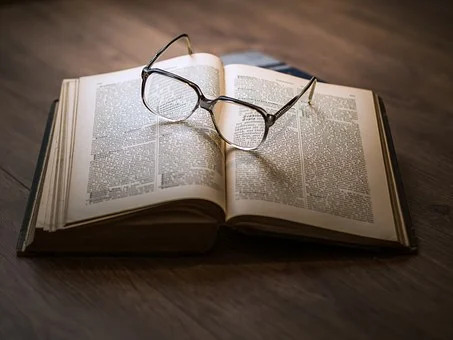 The Share International USA online bookstore carries all of Benjamin Creme's print, audio and e-books, CDs & DVDs, and free downloads of four key titles.
For a limited time offer: purchase Maitreya's Mission, Volume One (paperback or e-book) and receive 50% off through October 31st. Simply enter the discount code MM150 at checkout.
Order with all major credit cards at the Storefront, share-ecart.com. Checks and money orders are no longer being accepted. If you have questions please use our contact page.
Share and Follow us on Facebook!
Check out the Share International USA Facebook page for listings of national events as well as a beautiful collection of shareable quotes from Maitreya's Messages, the Master's articles, and Benjamin Creme's books. Click the image here to connect directly with our Facebook page and to like and share these posts on your socials. In these difficult times we especially urge you to post these quotes regularly. New and timely ones are added each week.
These images are meant to be shared 'as is.' Please do not edit them in any way.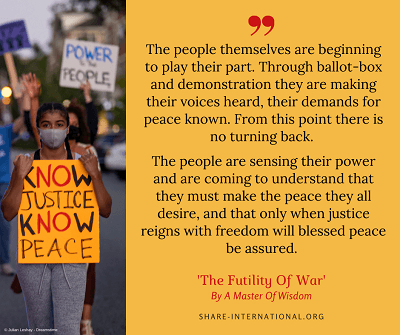 Share International LIVE

webinars offer programming in three series: (1) The Imperative of Change: Towards a sane and just world; (2) The Reappearance of Maitreya the Christ and the Masters of Wisdom; (3) Interviews and dialogues: Share International in conversation with…
Saturday, October 29

: "Living in a Mindful Universe – Part 2" Share International in conversation with Dr. Eben Alexander, one of the world's best known NDE-ers (Near Death Experiencers) who brings life-changing experience to all who hear him. What is death? What's it like to die? Is it the end? Will I meet my loved ones? Have I lived before?
In Part 2 Dr. Alexander and Felicity Eliot will answer more of the many questions raised during their first conversation in June. Click here to register.
Sign up to receive future webinar announcements

if you don't already receive them

.
View some of the past webinars on the Share International LIVE website.
North American programming:
The following events present wide-ranging information about the emergence of Maitreya and the Masters of Wisdom. Their content offers perspectives on how this is impacting our world today:

•
"Planetary Makeover" – A collection of audio and video interviews on a wide range of topics
"UFOs, ET Contacts and Evolving Human Consciousness"
"Promise of the Future: It's Not the End Times ~ It's the New Times!"
Scroll down to view these and other shows. https://planetarymakeover.org/all-videos
Articles for reading, sharing and publishing
Share International USA has a presence on two media outlets: Medium.com and Substack.com. There are now nine articles dealing with various subjects and all giving some information about Maitreya and the Masters. You will find them all interesting reads and a good tool for sharing our message with friends and family. The articles may also be accepted for publication by local, regional or even national media outlets – especially if they offer "sponsored content" (we buy an ad; they print the article!). If you know a publication that may be open to this arrangement, use this contact form to offer your suggestion. Someone will contact you. Here are three of the latest articles:
"Nuclear Energy: What We Don't Know is Hurting Us"
"Hope and Action: Antidotes to Despair"
"America, America"
Theosofest 2022 – Wheaton, IL
For several years volunteers have participated in the annual Theosofest hosted by the Theosophical Society in America located in Wheaton, IL. This year's event was the best ever with perfect September weather and a large attendance with many stopping at the two Share International booths. One booth was set up as a 40-year retrospective of

Share International

Magazine with an issue from each year clipped along the walls with front and back covers exposed. A table displayed copies of back issues available for people to take. Some 40 to 50 copies were given away. The booth was unattended and signs saying "come in and browse" were posted to encourage people to peruse on their own freely. The second booth was 'manned' and offered a wide assortment of information about the Reappearance story. A large Crop Circle poster attracted many and offered an opportunity to share our "Gathering of the Forces of Light" brochure. [This brochure is now available online to share electronically.]
Body Mind Spirit Expo – Raleigh, NC
| | |
| --- | --- |
| | Volunteers staffed a Share International booth at the Raleigh Body, Mind, Spirit Expo on August 20-21. Attendance was almost at pre-Covid levels and, according to other vendors, this venue attracts one of the largest audiences in the country. Two attendees who had a remarkable interest in Transmission Meditation offered to sponsor groups in the Cary area and in Moorisville, a suburb of Raleigh. Transmission workshops including an orientation and outline of purpose were offered to interested attendees if they agreed to supply the basics of forming a group with at least two other attendees to form a triangle. |
Find out what's happening
in your region.
Use
this map
to locate your region and
view upcoming events.
CONTENTS
• Maitreya's priorities
• Evidence of Maitreya's Presence
• Miracles throughout the world
• The Day of Declaration
• The Ageless Wisdom teachings
• Transmission Meditation
• The Promise of the Future
• Benjamin Creme: a messenger of hope
• How you can help

Read more