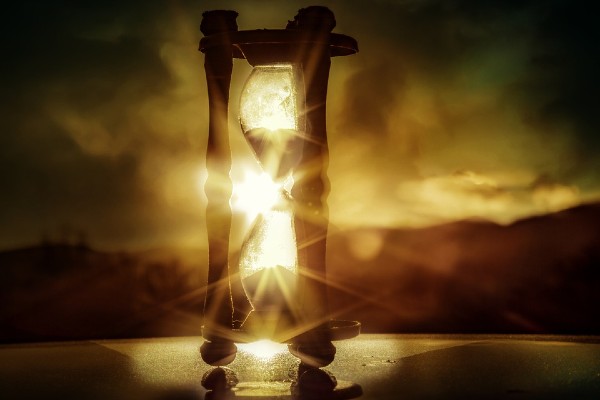 The New Time for men
by the Master –, through Benjamin Creme
More and more, men are beginning to understand the severity of the problems which face them today. On all fronts—political, economic and social, these problems multiply and cause much heartache and sad shaking of heads. Add to these the environmental problems which man's cavalier attitude to nature and its resources has engendered, and the future for mankind looks bleaker still. The realization is dawning that mankind's life is in crisis and that something radical must be done before it is too late.
What, indeed, can man do to save himself from disaster? What steps can he take even to mitigate the threat to his well-being?
The answer is relatively simple but, it would seem, difficult for men to grasp, caught, as they are, in the net of their own conditioning.
Read more
The words 'men' and 'man' are used throughout the Master's articles as general terms meaning humankind.
In the July/August

2021 Issue
The Sickness is the System

by Richard D. Wolff – Book review

by Sébastien Villemot

Reflecting on the Great East Japan Earthquake – Part One

by Mariko Matsumoto

US UFO report: disclosure or dissemblance?

by William Allen

Why going back to 'normal' is the worst thing we could do

by Felicity Eliot
If you like what you've just read, make sure you get equally stimulating and timely articles each month by subscribing to Share International magazine, your best source for worldwide stories pointing to a brighter future, coverage of practical action to rebuild our world for the better, and commentary related to the priorities of Maitreya, the World Teacher for the Aquarian Age.

Subscribe here
Benjamin Creme addresses the difficult problems humanity faces today and Maitreya's plans to stimulate necessary transformation.
Transformation and
New Approaches
"The counsel of Maitreya is for nothing less than the complete reconstruction of human life on Earth. A mighty programme of change will be proposed, leading, step by step, to a fundamental transformation of structures—political, economic and social—by which men work out their interchange and relationship. At the present time, men might hesitate before such far-reaching changes, but in response to the advocacy and inspiration of the Christ, and faced with the threat of economic chaos, many will see the need for a new approach and a new urgency in tackling the pressing problems of our world. These problems, if ignored, would continue to fester, and would erupt in tragic happenings around the world. Pain and suffering for millions would be the inevitable consequence of our present neglect. Thus will speak Maitreya. Thus will He show the need for change."
— From

The Great Approach: New Light and Life for Humanity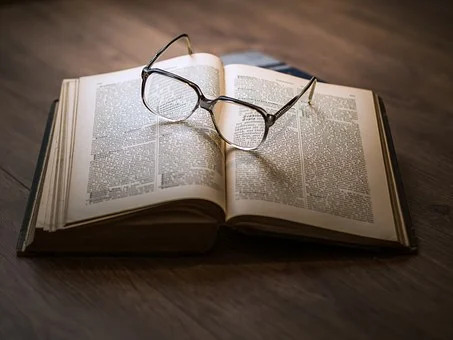 The Share International USA Storefront online 'bookstore' carries all of Benjamin Creme's print and audio books, CDs & DVDs, and free downloads for four of the basic books. For a limited time offer: purchase The Great Approach: New Light and Life for Humanity–in paperback and audio–and receive 50% off through September 30th. Simply enter the discount code TGA50 at checkout.
Order with all major credit cards at the Storefront, share-ecart.com. Checks and money orders are no longer being accepted. If you have questions please use our contact page.
Share and Follow us on Facebook!
Check out the Share International USA Facebook page for a beautiful collection of shareable quotes from Maitreya's Messages, the Master's articles, and Benjamin Creme's books, as well as national events. Click the image here to connect directly with our Facebook page and to like and share these posts on your socials.
These images are meant to be shared 'as is.' Please do not edit them in any way.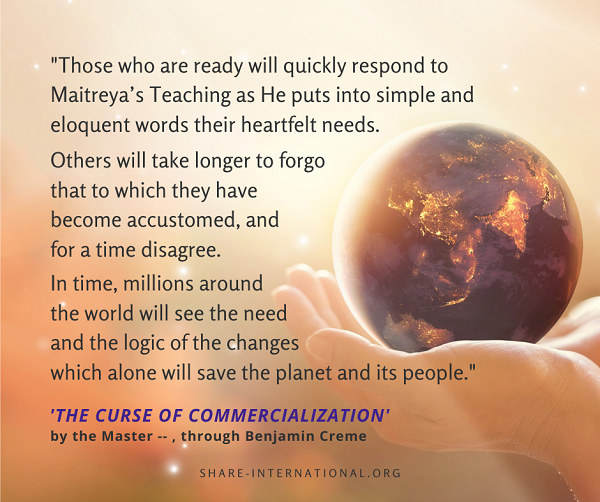 "Share International LIVE" webinars resume in the Fall

with programming in three series:
•

Series 1 – The Imperative of Change—Towards a sane and just world


Sharing as the key to building economic and social systems based on cooperation, participation, ecological sustainability and justice.
•

Series 2 – The Reappearance of Maitreya the Christ and the Masters of Wisdom


The Ageless Wisdom Teaching – the key to understanding the modern world. A new definition of spirituality.
•

Series 3 – Interviews and dialogues: Share International in conversation with…



[Series 2 resumes

Sep 25

] 'Maitreya's Priorities for the New Civilization'
[Series 3 begins

Oct 24

] 'The Web of Meaning: Jeremy Lent and Felicity Eliot in conversation'
Read a review of Lent's new book

The Web of Meaning‐Integrating Science and Traditional Wisdom to Find our Place in the Universe

.
[Series 1 resumes

Dec 11

] 'Towards a New Sharing Economy—Part 2'
Mark your calendar for these dates and watch for the descriptive emails with registration links. Watch past programs on the Share International Live YouTube channel.
North American programming
The following events present wide-ranging information about the emergence of Maitreya and the Masters of Wisdom. Their content offers perspectives on how this is impacting our world today:

•

'What in the World is Happening?'

– a bi-monthly webinar. Upcoming episodes:
September 11 – 'An Ageless Wisdom Perspective on 9/11 and the Possibilities for a Lasting Peace'
October 9 – 'Maitreya's Priorities and Universal Basic Income'
Watch these and all 50 previous episodes on Facebook.
If you don't use Facebook, register here.
•
'Planetary Makeover' – a bi-weekly presentation with accompanying video
Show details
•
'The Awakening of Humanity: 2021' – a 3-part video presentation on Maitreya and the Masters of Wisdom, Maitreya's priorities and spiritual teachings.
www.Shareinternational-west.org
Back to Booths
| | |
| --- | --- |
| | Since the pandemic and for the first time in over a year, Share International volunteers staffed informational booths across the U.S., providing the hopeful story of the emergence of the World Teacher and the Masters of Wisdom to receptive audiences: in late July at the Orange County Yoga Festival in Southern California; in mid-August at the VegFest in Pittsburgh, PA and the Body Mind Spirit Expo in Raleigh, NC. Volunteers reported people were so ready to get out and hear encouraging news given all the rampant turmoil in the world. These events were great opportunities to talk with the general public and listen to their current concerns. Volunteers were engaged in some long conversations with people who walked away with new information they said would be very helpful in dealing with these uncertain times. Lots of free literature was given away, and several people in Raleigh were interested in starting a Transmission Meditation group. The initial perception is that the public is more open to hearing the news about Maitreya. |
Find out what's happening in your region.
Use this
map
to locate your region.
CONTENTS
• Maitreya's priorities
• Evidence of Maitreya's Presence
• Miracles throughout the world
• The Day of Declaration
• The Ageless Wisdom teachings
• Transmission Meditation
• The Promise of the Future
• Benjamin Creme: a messenger of hope
• How you can help

Read more