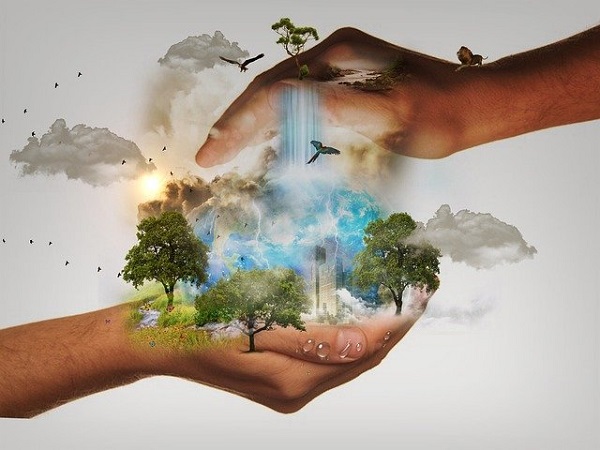 Man's Responsibility
by the Master —, through Benjamin Creme
From the earliest times, mankind has feared the natural disturbances of our planetary home. Cataclysms of unimaginable ferocity have destroyed huge areas of the Earth's surface over and over again. This fact is hard for many to accept and raises, always, grave doubts in the minds of many religious people about the veracity of God's love for humanity. How can we believe in a loving God who allows thousands of people to be killed in earthquakes, tsunamis and the rest? Were humanity to understand their own involvement in such planetary destruction, they could play a significant role in preventing its occurrence.
The Earth's crust, as it has evolved over the ages, is not single and evenly spread around the world. As is well known, it takes the form of various plates at different depths, which overlap and are in relatively constant movement. Countries and cities which lie on or near the plate edge, or fault-lines, are consequently subjected to earthquakes and, if near oceanic regions, tsunamis. It is not a question of God's love failing humanity but of seismic pressure which must be released. What, we may ask, causes seismic pressure to grow to such a destructive extent?
Read more
The words 'men' and 'man' are used throughout the Master's articles as general terms meaning humankind.
In the September

2021 Issue
Re-orientation, reconstruction and change

Maitreya's Message No. 13

Because you do know

Interview with Mar Sabé of Open Arms by Sabina Qureshi

Signs of the Times:

Here on a spiritual mission

Hidden Energy – hope for a clean and sane world

In conversation with Jeane Manning
If you like what you've just read, make sure you get equally stimulating and timely articles each month by subscribing to Share International magazine, your best source for worldwide stories pointing to a brighter future, coverage of practical action to rebuild our world for the better, and commentary related to the priorities of Maitreya, the World Teacher for the Aquarian Age. See some of the other articles you may have missed

here

.
Benjamin Creme speaks on our individual responsibility to achieve world peace and the need for unity on a global scale, economic justice through the redistribution of the world's resources, the importance of the United Nations and saving planet Earth with help from the Space Brothers.
Be a Lighthouse –

the Path of Service
| | |
| --- | --- |
| " | Man is made to serve both God and Man, and only through that correct service can the path to God be trodden. Each man is a lighthouse and sheds abroad his light for his brother. Make bright your lamp and let it shine forth and show the way. All are needed, every one. No one is too small or young to take part in this great Plan for the rescue and the rehabilitation of our world. Resolve to do this and be assured that My help will not be withheld. How to start? Begin by dedicating yourself and all that you are and have to the service of your brothers and sisters everywhere. Make sure that not one day passes without some act of true service and be assured that My help will be yours. This, the Path of Service, is the only path for True Men, for it is the path which leads them to God. |
— From

Messages from Maitreya the Christ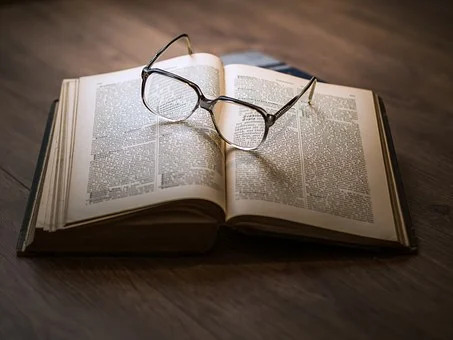 The Share International USA Storefront online 'bookstore' carries all of Benjamin Creme's print and audio books, CDs & DVDs, and free downloads for four of the basic books.
For a limited time offer: purchase the paperback version of Messages from Maitreya the Christ – or the audio version on CD, cassette tape or direct download from our audio section – and receive 50% off through October 31st. Simply enter the discount code MMC50 at checkout.
Order with all major credit cards at the Storefront, share-ecart.com. Checks and money orders are no longer being accepted. If you have questions please use our contact page.
Share and Follow us on Facebook!
Check out the Share International USA Facebook page for listings of national events as well as a beautiful collection of shareable quotes from Maitreya's Messages, the Master's articles, and Benjamin Creme's books. Click the image here to connect directly with our Facebook page and to like and share these posts on your socials.
These images are meant to be shared 'as is.' Please do not edit them in any way.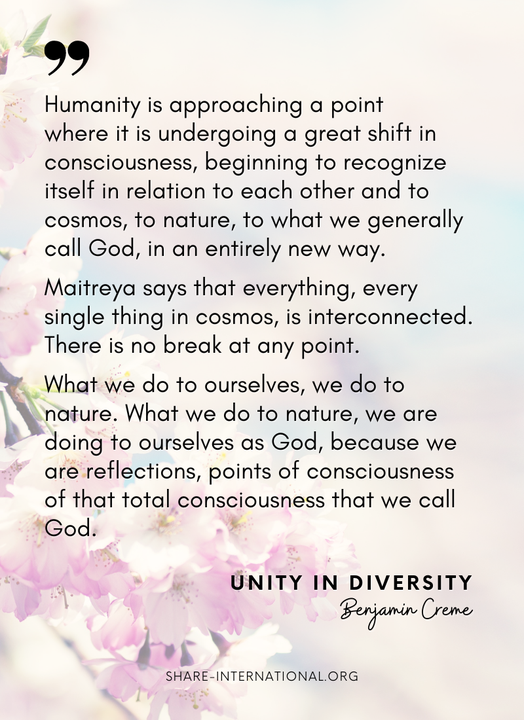 Share International LIVE

webinars resume in the Fall with programming in three series:
•

Series 1 – The Imperative of Change: Towards a sane and just world


Sharing as the key to building economic and social systems based on cooperation, participation, ecological sustainability and justice.
•

Series 2 – The Reappearance of Maitreya the Christ and the Masters of Wisdom


The Ageless Wisdom Teaching: the key to understanding the modern world. A new definition of spirituality.
•

Series 3 – Interviews and dialogues: Share International in conversation with…



[Series 3 begins October 24] "The Web of Meaning: Jeremy Lent and Felicity Eliot in conversation"
Read a review of Lent's new book

The Web of Meaning – Integrating Science and Traditional Wisdom to Find our Place in the Universe

.
[Series 1 resumes December 11] "Towards a New Sharing Economy – Part 2"
Mark your calendar for these dates and watch for the descriptive emails with registration links. Watch past programs on the Share International Live YouTube channel.
North American programming
The following events present wide-ranging information about the emergence of Maitreya and the Masters of Wisdom. Their content offers perspectives on how this is impacting our world today:

•

"What in the World is Happening?"

– a bi-weekly webinar. Upcoming episodes:
October 9 – "Maitreya's Priorities and Universal Basic Income"
October 23 – "Transmission Meditation: A meditation to help the world"
Watch these and all 50 previous episodes on Facebook.
If you don't use Facebook, register for upcoming programs here.
•
"The Awakening of Humanity: 2021" – a 3-part video presentation on Maitreya and the Masters of Wisdom, Maitreya's priorities and spiritual teachings.
www.Shareinternational-west.org
•
"Planetary Makeover" – a bi-weekly presentation with accompanying video
Show details
Advertising in the Northwest region
| | |
| --- | --- |
| | Since the beginning of the Covid-19 pandemic, which has limited SI-USA groups' in-person outreach activities, such as talks and expo booths, co-workers in the Northwest region have brought our message of hope to many people throughout the region in a variety of other ways – including advertising. From small towns to big cities in Washington state, Oregon, and northern California, co-workers have published print ads in newspapers; website ads on newspaper websites; ads in free e-newsletters offered by newspapers; and sponsored content (articles on the Reappearance that we pay to place on websites). These forms of advertising refer to, or link directly to, the Northwest region's website – www.Shareinternational-west.org – which offers an in-depth overview of our message, especially via videos. The newspapers and websites chosen for advertising were in most cases recommended by co-workers in the region who were familiar with the specific publications. If readers of this e-newsletter have recommendations on publications where we might advertise – in the Northwest region and throughout the US – please send an email with your recommendations. |
In case you missed it:

On September 15th we sent you an email 'Explore Our New Website and Other Online Features' to alert you to our remodeled US website, more sources of information and tools for outreach. If you haven't yet read the announcement, please check your email for this date.
Find out what's happening in your region.
Use this
map
to locate your region.
CONTENTS
• Maitreya's priorities
• Evidence of Maitreya's Presence
• Miracles throughout the world
• The Day of Declaration
• The Ageless Wisdom teachings
• Transmission Meditation
• The Promise of the Future
• Benjamin Creme: a messenger of hope
• How you can help

Read more