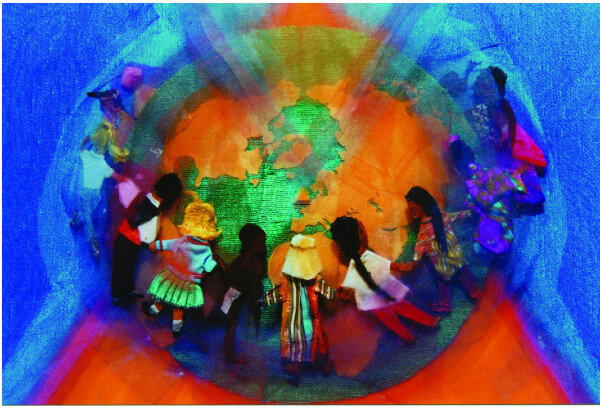 'Brotherhood', diaphanous collage by Josephine Harrison
Brotherhood
by the Master –, through Benjamin Creme
Without doubt, this is a time of major importance to humanity. The decisions made by men now will decide, in large measure, the whole future of this planet. Future generations will marvel at the apparent ease with which so many today slough off concern for the world's ills: millions starve and die of want in a world blessed with a huge surplus of food; millions more are always hungry and undernourished.

Many know this to be true yet do nothing. How can this be? What prevents their action? The basis of this inaction is complacency, the source of all evil in the world. Complacency has its roots in the crime of separation which pulls men apart and prevents the flowering of Brotherhood.

Men soon must realize this truth or perish. Brotherhood is both an idea and the fact of our planetary life. Without the reality of Brotherhood as the basis for all action, man's every effort would come to nothing.
Read more
The words 'men' and 'man' are used throughout the Master's articles as general terms meaning humankind.
A recommended read:

The Economics of Biodiversity: the Dasgupta Review, 2021

by Phyllis Creme

A disciple's responsibility in crucial times

– part two

by Anne Marie Kvernevik

The Law of Action and Reaction – a compilation

Lakhdar Brahimi calls for a spirit of solidarity

Signs of the times:

Light phenomena worldwide
If you like what you've just read, make sure you get equally stimulating and timely articles each month by subscribing to Share International magazine, your best source for worldwide stories pointing to a brighter future, coverage of practical action to rebuild our world for the better, and commentary related to the priorities of Maitreya, the World Teacher for the Aquarian Age.

Subscribe here
In the midst of today's chaos and strife, Benjamin Creme speaks about a brilliant future for humanity. Stimulated by the Aquarian energies of synthesis and brotherhood, we will get there with the help of Maitreya and the Masters of Wisdom.
Co-Operation and Brotherhood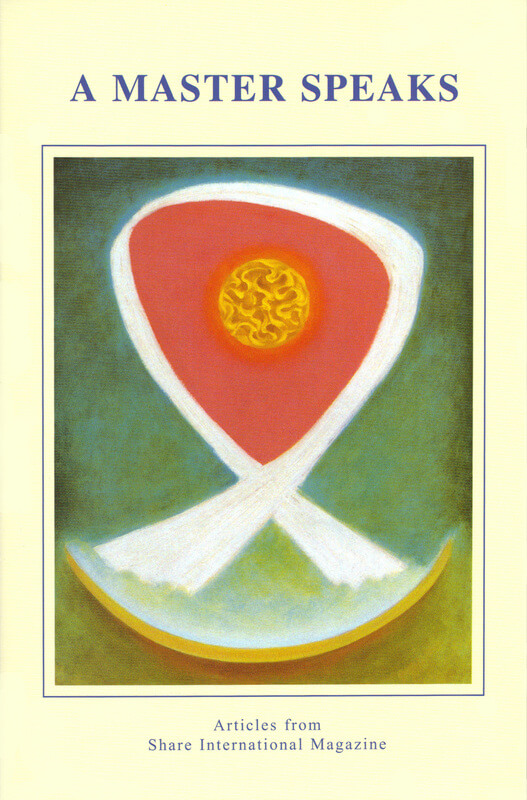 "Now, as we enter the time of renewal, men should understand the principles on which a correct advance can be made. Brotherhood, itself a fact in nature, must more and more determine the nature of the new forms. All that is awakened to the fact of brotherhood will find itself in the centre of the path to the future. All that pertains to brotherhood will find the quickening energy of Hierarchy flowing to its cause. Peace will be established on the idea of brotherhood, ridding the world for ever of the canker of war. Co-operation is the key to the new relationships. When co-operation reigns, the iniquities and inequalities of the past will cease…. Through sharing and co-operation, brotherhood will flourish, and a new and glorious future open for man."
We're pleased to announce that you can now purchase audio books from our Share International USA Storefront. As a limited time special offer, enter the discount code AUDIO50 at the checkout to receive 50% off the purchase of any audio book. This offer expires on July 15, 2021 and you can use the discount before then as often as you wish. The Storefront, share-ecart.com, also carries all of Benjamin Creme's print books, CDs & DVDs, as well as free downloads for four of the basic books.
All major credit cards are accepted. Checks and money orders are no longer being accepted for books. If you have questions please use our contact page.
Share and Follow us on Facebook!
Check out the Share International USA Facebook page for a beautiful collection of shareable quotes from Maitreya's Messages, the Master's articles, and Benjamin Creme's books, as well as national events. Click the image here to connect directly with our Facebook page and to like and share these posts on your socials.
These images are meant to be shared 'as is.' Please do not edit them in any way.
Share International Webinar Series: 'The Imperative of Change — Towards a sane and just world'
Begun in January of this year and including international panelists, these webinars present our message in the context of world events. Watch your email box for announcements of upcoming programs (July 3). Watch past programs on the Share International Live YouTube channel:

•
'The Voice of the People – Harnessing people power for systemic transformation'
•
'Sharing and Justice – The essential foundation for peace'
•
'Lessons from a Divided World – and the Way Forward'
North American programming
| | |
| --- | --- |
| | The following events present wide-ranging information about the emergence of Maitreya and the Masters of Wisdom. Their content offers perspectives on how this is impacting our world today: |
Thousands respond to our Drudge.com ad
Between April 28 and May 11 the Southwest region sponsored a banner ad of over 4.5 million impressions on the news website 'Drudge Report'. The ad received 24,094 total clicks, leading them to our "Message of Hope" landing page containing a short video along with background information links for further research. From that page there were 6,360 total

clicks

(not necessarily separate individuals) for more information of which over 1,800 visitors found their way to the new World Teacher brochure page. These figures don't count video plays, either, so the total is likely higher assuming people watched the video first before clicking on a link for more information. According to the advertising salesperson, the "phenomenal" click-through rate of .54 percent was twice as high as the average for their website. He noted that the public was really engaged in this ad. This was a good sign that so many people reached for a glimmer of hope amidst the often dark headlines below our ad.
In memory: Josephine Harrison
| | |
| --- | --- |
| | The image that accompanies the Master's article above was created by our long-time friend, co-worker, and brilliant artist Josephine Harrison, who passed away on May 18. Josephine is known for her diaphanous textile collage art and watercolors—in addition to having written/illustrated 3 books and given numerous lectures and exhibitions. Since the earliest days of Tara Center and Share International, she devoted her unique talents to spreading the message of Maitreya's presence and his priorities. |
The Awakening of Humanity: 2021
| | |
| --- | --- |
| | This timely new video, produced by co-workers in our Northwest region, is posted on the home page of the region's website: Shareinternational-west.org. Beginning with a brief introduction to the Reappearance story, the video offers an in-depth overview of our message, focusing on: (1) Who are Maitreya and the Masters of Wisdom? (2) Maitreya's priorities (3) and Maitreya's spiritual teachings. |
Noteworthy media interviews
Find out what's happening in your region.
Use this
map
to locate your region.
CONTENTS
• Maitreya's priorities
• Evidence of Maitreya's Presence
• Miracles throughout the world
• The Day of Declaration
• The Ageless Wisdom teachings
• Transmission Meditation
• The Promise of the Future
• Benjamin Creme: a messenger of hope
• How you can help

Read more