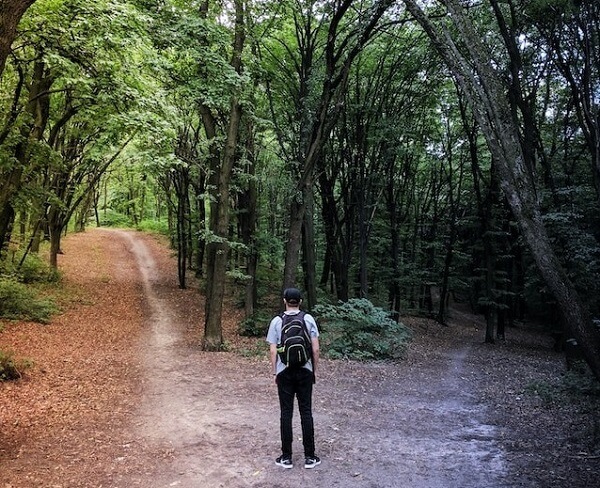 Unsplash: Vladislav Babienko
Humanity's choice
by the Master —, through Benjamin Creme
Many are the ways in which humanity is advancing, knowingly or not. From Our viewpoint, these forward steps are clearly to be seen. Notwithstanding the present chaos and crisis, the amelioration of the worst conditions of human life, in many places, goes on apace. It is true that there are areas of the deepest deprivation and neglect; that millions still starve and die without cause or need; that half the world cries out for justice while the others bask in the sunshine of their complacency and ignorance. Nevertheless, real and far-reaching changes are taking place and augur well for the future. This gives Us hope that humanity's response to Maitreya will be eager and swift.
When Maitreya appears before the world He will outline the programme for its renewal. He will show that the present methods of coping with our many problems are deeply flawed, relying as they do on rivalry and self-interest; that the present tensions and dangers are a direct result of the imbalances created by complacency and greed; that by co-operation alone will the problems of the world be solved, the poor and starving fed, the health of the planet secured, war a forgotten nightmare of the past.
The peoples will listen and debate and take their stand: for the creation of a new and better way of living based on accepted brotherhood and sharing, or a descent into further degradation and violence and final self-destruction.
Humanity must make its choice. Men and women everywhere should understand that this is a choice for life, unimaginable in its newness and grandeur, or ignominious death by their own hand. Better by far it is to face boldly the future and build together the new, than to creep, defeated, to the abyss.
How will you choose, then, reader? How will you cast your life? Will you stand with Maitreya and His call for justice and freedom? For a world remade by sharing and love? Will you come to know your divinity and that of your brothers? Your path to the stars a reality before you?
Will this decision, your soul's choice, fill you with gladness? And take you to the Source of Love Itself?
Maitreya knows already those on whom He can depend. He knows that the hearts of men are sound and strong, on them He can rely. He knows that His army is ready for the good fight for the Common Good. That the men and women of Goodwill everywhere are sensing His presence and responding to the world's need.
He has no fear that the men and women of today will miss their destined opportunity to cast their vote and their choice for the General Good. Fearless, they are ready for the future and longing to serve.
* The words 'men' and 'man' are used throughout the Master's articles as general terms meaning humankind.
Share International Magazine

In the May issue
From the Editor: "To mark this important point in the year we have chosen to focus on texts about the Buddha, and His description of Maitreya as the fifth Buddha. The Master Djwhal Kuhl calls our attention to Wesak; writing through Alice A. Bailey, He indicates very powerfully the importance of service at the time of this ancient sacred time: 'No cost is too great to pay in order to be of use to the Hierarchy at the time of the Full Moon of May, the Wesak Festival; no price is too high in order to gain the spiritual illumination which can be possible, particularly at that time.'" (Alice Bailey,

Discipleship in the New Age Volume One

)
Maitreya sees all people as members of one family, thereby prioritizing the human right of all for nourishing food, safe housing, effective medical care and all the education needed for individual sustenance and self-development. Beyond these come environmental restoration and the preservation of nature in its myriad forms. In this section we will highlight examples of positive actions and trends in these directions. Refer to the Source/s for more in-depth information.
Venezuela: Housing the poor
Maitreya declared that part of the solution to mankind's problems includes the provision of adequate housing for the poor. In a landmark celebration in December 2022, Venezuela celebrated the milestone of constructing 4.3 million homes for poor or displaced citizens of that country. Venezuela's President Nicolás Maduro has continued the Great Housing Mission of Venezuela (GMVV) started under the former government of Hugo Chávez in 2011 and designed to provide low-income families with low-cost or free of charge homes. "We did it: 4.3 million homes," said Maduro. "We are going the way of Chávez, building well-being for the Venezuelan people" and projected to complete the 5 million home milestone by 2024.
The program often provides social infrastructure such as schools, subsidized food markets, and recreational and green spaces while houses are handed over equipped with basic household appliances. Extreme structural poverty in Venezuela has been reduced from 10.8% in 1998 to 4.3% in 2018 as a result of the program, and costs are significantly reduced by having over 70% of the constructions reportedly self-managed by communities, with financial and logistical support from government institutions. The program has also empowered women in the community to take the lead on many construction projects. Ayari Rojas, the leader of the El Algodonal project in Caracas recently stated, "We feel very optimistic about our future projects. The men, and especially the women, are ready to continue building a strong community and a brighter future."
Sources
THREE FESTIVALS OF SPRING
During the spring full moons (April, May and June), spiritual energies are at their most powerful because of the sun–moon–earth alignment and the potency of these ancient festivals. Group meditation, and particularly Transmission Meditation, provides a unique opportunity for us to invoke these evolutionary energies for spiritual service – something especially helpful during this time of planetary transformation. Transmission group members are encouraged to 'connect' with any Share International groups – virtual or in person – at the time/s the groups have chosen. This information is sent to groups in a separate communication. If you are new to Transmission Meditation, we invite you to join a special Zoom introduction and meditation:
Tuesday, May 2, 7:30 pm EDT

celebrating the second of these festivals — Wesak. To request the Zoom link, send an email to our Contact page.
During the exact day of each of these full moons, you may also wish to sit quietly and meditate. Here are the exact dates and times:
Easter Festival (Aries) full moon:

April 6 @ 12:34 am EDT
Wesak Festival (Taurus) full moon:

May 5 @ 1:33 pm EDT
Festival of Goodwill (Gemini) full moon:

June 3 @ 11:41 pm EDT
Click here to read an article from a Master of Wisdom about the importance of these festivals, a brief description of each, and some simple meditation guidelines.
The Day of Destiny
| | |
| --- | --- |
| " | There is growing evidence, in the changes now taking place at an accelerating pace, that some force (or forces) guides the destiny of the world. Few can believe that the historic transformations, the upsurge of aspiration for freedom and participation now witnessed on a massive scale, result from mere coincidence and have no inner cause. Few would deny that the speed alone of these momentous changes suggests otherwise, points to the growing awareness by millions that their day of destiny has come, and that power, from now, rests with the people, and must be wielded for their good. A new sensitivity to energies is manifesting today, and it is to new and powerful energies, scientifically blended and directed, that we must look for the origin of the outer events. Energetic stimulus precedes change, always and everywhere. |
— From

The Great Approach: New Light and Life for Humanity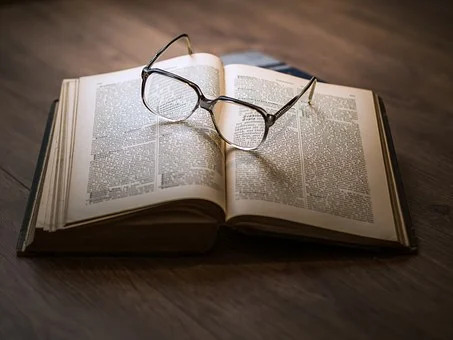 The Share International USA online 'bookstore' carries all of Benjamin Creme's print, audio and e-books, CDs & DVDs, and free downloads of four key titles.
For a limited time, purchase The Great Approach: New Light and Life for Humanity (paperback, e-book or audio) and receive 50% off through May 31st. Simply enter the discount code TGA50 at checkout.
Order with all major credit cards at the Storefront, share-ecart.com. Checks and money orders are no longer being accepted. If you have questions, please use our contact page.
Our USA Facebook page has over 300 ready-made posts with beautiful images, timely quotes and links to the source of the quotes in Benjamin Creme's books and Share International magazine – a post to share almost every day of the year. Don't wait for the one we send each month! Go to the Share International USA Facebook page, scroll down to 'Photos' and click 'See all'. When you click on your choice for today it will open up ready to share. In these difficult times, we urge you to post these reassuring quotes regularly.
These images are meant to be shared 'as is.' Please do not edit them in any way.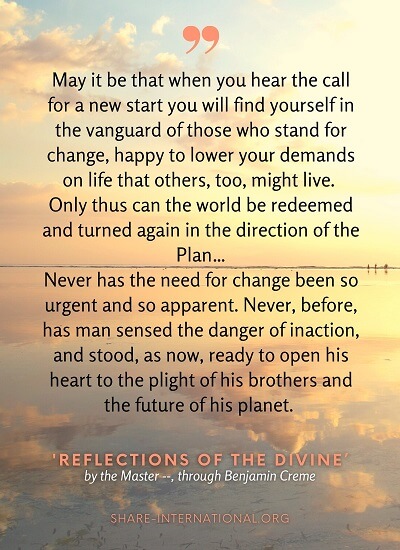 Network News, Programming and Events
In addition to the increasing number of

in-person

outreach events conducted by Reappearance workers, you will have noticed the rich offering of

Internet-based

programming we feature each month. The latter offers an infinitely wider distribution and opportunity for sharing. While we list a few programs in each issue, there is also an archive of past programming for each of these shows. For example,

What in the World is Happening

archive contains 86 previous shows covering a wide range of guests and topics related in some way to our message. As a live show it also answers viewer questions on air.

Planetary Makeover

includes over 50 audio and video offerings. A public radio program,

A Better World

provides an in-depth look into the people and organizations who are working to create a world that works for everyone. Guests often include those who relate their activity to Maitreya's emergence and priorities.

Mystic Takeaway

, a podcast, was inspired by the idea that sharing stories of spiritual experiences can uplift us, while opening us up to perceive new possibilities in our own lives and in the world around us.

•
"Planetary Makeover" – A collection of audio and video interviews on a wide range of topics.

| | |
| --- | --- |
| ▪ | "If We Are Not Our Bodies…" |

Scroll down to view these and other shows: https://planetarymakeover.org/all-videos

•
"A Better World" interviews

| | |
| --- | --- |
| • | "Mystic Takeaway" interviews on spiritual experiences |
Spring Outreach Reports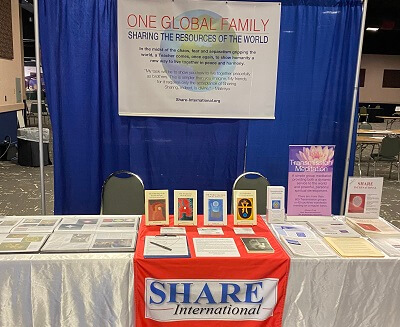 •
Denver, CO – Body, Mind, Spirit Celebration – March 17-19
Recently, the Mountain West Group in Colorado participated in a Body, Mind, Spirit Celebration held at a large Hotel Convention Center in Denver. This is the largest such event in the Denver area and is held in the Spring and Fall. We had a large corner booth with visibility on two aisles. It lasted three days so we were able to speak to many people, get signups for local transmission groups and to give a featured talk which was well attended. Participating twice a year has given us opportunities to form connections with other vendors as well as returning individuals who know our names and our story.

•
Republic, MO – Age of Aquarius Fair – March 24-26
Two co-workers made separate ~three-hour journeys down from their cities to help share the glad tidings. Our booth was in the lobby right by the main entry, so exposure was fantastic. Everyone walked by our table both on the way in, out, and going between the two large event rooms – each with around 100 tables.
Plenty of people stopped and let us share the information with them. Lots and lots of literature was handed out – more than we had expected.
A good number of people wanted extra literature to share with friends, including one very positive, energetic woman who came in a second time, after it was over and we were packing up, asking for "as much literature as you can give me" to "share with all my friends." She said she read the material we had given her husband earlier and it struck a match in her. We gradually gave her more and more literature at her request. Only after about 200 pieces were in her hands did she indicate that was enough! [Not enough room to share the rest of this delightful encounter!]
More Spring reports to come next month.
Find out what's happening
in your region.
Use
this map
to locate your region and
view upcoming events.
"The opportunity to work for the transformation of the world, for the saving of humanity, the lower kingdoms, the Plan of Evolution, is a gift of grace, an opportunity never before offered to so many. I know it is easier to believe than to act on the belief, but if you believe it at any level, make it known at that level. This will be the only opportunity you will have to do that. When Maitreya comes forward, millions of people will gather round him, the world will be transformed really rather quickly – but you have the chance to know beforehand, and to create the climate of hope and expectation which is required." – Benjamin Creme,

The Great Approach
CONTENTS
• Maitreya's priorities
• Evidence of Maitreya's Presence
• Miracles throughout the world
• The Day of Declaration
• The Ageless Wisdom teachings
• Transmission Meditation
• The Promise of the Future
• Benjamin Creme: a messenger of hope
• How you can help

Read more