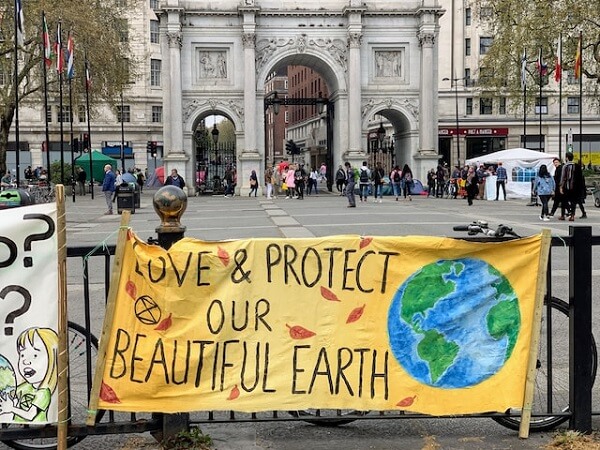 Unsplash: Belinda Fewings
The Great Mother
by the Master —, through Benjamin Creme
More than men think, the world is changing for the better. Despite the ominous clouds drifting across the planet from time to time, the main thrust of events is positive and hopeful. How much more is this the case than is apparent to men only the manifold means at the disposal of Hierarchy can ascertain. However, there are still grave concerns which men ignore at their peril. Chief among these is the environment which, men must know, they daily undermine. This despoliation of nature now threatens the well-being of all and augurs badly for future generations. Pollution of the planet has now reached dangerous, life-threatening levels, thus weakening man's inherent immunity and bringing again to the fore diseases once thought vanquished for ever.
Men must realize their responsibility for the planet on which they live. Stewards, men are, of a strong but sensitive organism and must protect it from harm. Few, today, can claim that this they do. On the contrary, men waste and ride roughshod over nature's generous munificence, unheedful of tomorrow or their children's needs. True it is that many are awakening to this problem, but until it is understood as the concern of all, and tackled globally, little progress will be made in changing direction.
You can be sure that Maitreya is not unmindful of the dangers to mankind if they ignore this pressing difficulty. He will urge men to work – everyone – for the planet's restoration, and point the way to a simpler and happier life.
Once restored again to health the planet will continue to give its bounty to all who approach with care and love. The elementals of the lower kingdoms know well their tasks; free from the influence of men's disordered thoughts, these industrious builders can, in harmony, create a new and better world.
When men understand nature as the Great Mother of all, they will approach Her with reverence. Thus will She reveal to men Her secrets and laws. Armed with this new knowledge, men will in truth manifest as Gods.
Man is a crucible in which is being created a new Being. In the fiery heat of experience man is gradually learning the ways of God. Slow and painful may be the early steps but in time the pace will quicken. Revelation after revelation will expand his consciousness, leading to a crescendo of creativity and knowledge. Man will stand revealed as a Son of God.
The first step is to awaken to the dangers of the present situation. This is already well advanced and many seek to influence worldwide action. Like so much else, that action awaits a change of heart in major nations – the worst offenders in the pollution of the planet.
Maitreya will lend His voice and age-long knowledge to the coming debate – and speak for those who have no voice and suffer in silence.
* The words 'men' and 'man' are used throughout the Master's articles as general terms meaning humankind.
Share International Magazine

In the July issue
From the Editor: "In this issue, you will find … articles written by a Master of Wisdom and one, 'How JFK would pursue peace in Ukraine,' written by one of the world's foremost minds – Jeffrey Sachs – whose insights into current crises are invaluable. … Also here are the voices of a leading economic anthropologist – Jason Hickel … of Indigenous peoples, of an Iranian woman, Sheida Kourangi, describing the heroic uprising in her country of origin, of a Frenchman, Luc Guillory, analyzing popular protest in his country, and his compatriot, Cyril Dion, whose life and work are a call for a new world. Further, Bette Stockbauer gives a broad overview of history from the point of view of a student of the Ageless Wisdom Teachings … Pauline Welch brings faith and finance together and describes how world faiths are driving practical action for the sake of the planet. [And] Aart Jurriaanse looks to the future describing the New World Religion…" This issue of the magazine covers two months. In next month's newsletter we'll cover its other focus: the historic Disclosure Project UFO press conference that took place June 12, 2023 and related material from the Master ‒ and Benjamin Creme."
Maitreya sees all people as members of one family, thereby prioritizing the human right of all for nourishing food, safe housing, effective medical care and all the education needed for individual sustenance and self-development. Beyond these come environmental restoration and the preservation of nature in its myriad forms. In this section we will highlight examples of positive actions and trends in these directions. Refer to the Source/s for more in-depth information.
The Bridge Builders
In our January issue we pointed you to

Future Crunch's

list of

99 top positive stories for 2022

– demonstrating there is a gigantic force for good operating in the world – right under the noses of our mainstream media. With little or no worldly recognition, countless men, women, and children selflessly serve their fellow creatures (all of us) and our planetary home through countless acts of kindness, creativity and relentless hard work.
This month we want to share the results of their three-year project, "

Humankind

." In August 2020, they began a mission: to discover a person every week who was working to improve our world. The result: 100 inspiring stories about people "who have worked tirelessly under the radar for years, sometimes decades, showcasing the best of what it means to be human, without a film crew, hashtag or sponsorship deal…They're the bridge builders, providing safe passage across the divides of war, politics, and echo chambers – to guide us back to each other." Give yourself a dose of inspiration and hope for the future – Maitreya's counsel in action.
Read about this amazing project.
Hear Future Crunch's Amy Davoren-Rose talk about it on A Better World radio.
A new science to beautify Earth
| | |
| --- | --- |
| " | A new, divine science will become his. Through its means, man will harness the energies of the Universe for his diverse needs and transform and beautify this Earth. As custodians of this science We, the Masters of Wisdom, will reveal its secrets, stage by stage, as man equips himself correctly for its use. Then the gateway to the heavens will open and man will find himself on a journey without end. The cosmos, near and far, will be the subject of his research; infinity will beckon him ever onwards and test his valour. A new stream of thought is entering men's lives which will galvanize them into action. A new, creative potency will manifest itself on all sides and, in gathering momentum, the secrets of Life will be discovered and revealed. Man stands now on the threshold of great things. Marvels await his astonished gaze. The limitations of the past will soon lose their hold and free him to explore the cosmos and himself. |
— From

A Master Speaks, Volume One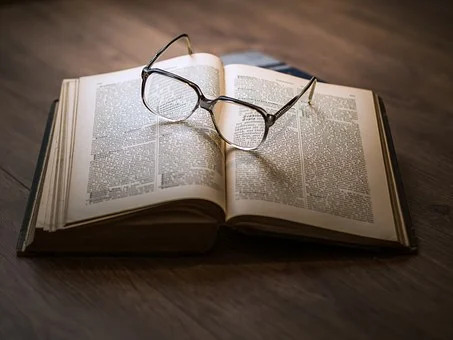 The Share International USA online 'bookstore' carries all of Benjamin Creme's print, audio and e-books, CDs & DVDs, and free downloads of four key titles.
For a limited time, purchase A Master Speaks, Volume One (paperback or e-book) and receive 50% off through July 31st. Simply enter the discount code AMS150 at checkout.
Order with all major credit cards at the Storefront, share-ecart.com. Checks and money orders are no longer being accepted. If you have questions, please use our contact page.
Our USA Facebook page has over 300 ready-made posts with beautiful images, timely quotes and links to the source of the quotes in Benjamin Creme's books and Share International magazine – a post to share almost every day of the year. Don't wait for the one we send each month! Go to the Share International USA Facebook page, scroll down to 'Photos' and click 'See all'. When you click on your choice for today it will open up ready to share. In these difficult times, we urge you to post these reassuring quotes regularly.
These images are meant to be shared 'as is.' Please do not edit them in any way.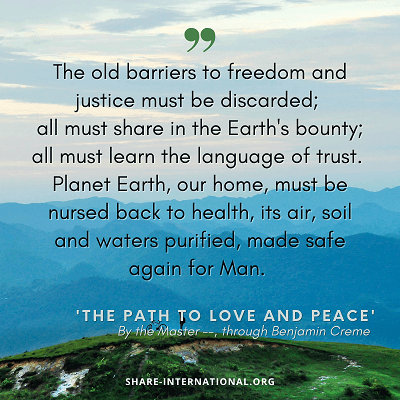 Network News, Programming and Events
North American programming:
The following events present wide-ranging information about the emergence of Maitreya and the Masters of Wisdom. Their content offers perspectives on how this is impacting our world today.

Please pass this information on to some new people

:
Spring Outreach Reports
•
National Advertising Group
If you notice an ad for a Benjamin Creme book, or an article or general message from Share International in a publication you read or a web site you frequent, our National Advertising Group is probably responsible for putting it there. Our six-person ad team works to circulate our information to the widest possible audience – from readers of small publications like

Christian*New Age Quarterly

to anyone who searches on Bing for topics related to keywords we've chosen. Some of our ads are published online or in e-newsletters of spiritually-oriented organizations; others are placed on web sites or e-newsletters of media outlets more politically-oriented. Of course the messaging is tailored to the type of audience. We also have our own pages on Medium and Substack, where we publish a variety of articles – about one a month – that highlight the emergence story and show how Maitreya's teachings and priorities relate to happenings in the world today. If you know of a media outlet you think would be useful for our advertising outreach, please send your suggestion(s).

| | |
| --- | --- |
| • | Email Outreach Campaign |
| | On June 3, a small team launched an email outreach to 555 online bloggers and podcasters who engage their audiences on the topics of spirituality, consciousness, meditation and progressive Christian thinking. The outreach was intended to introduce younger generations of writers and podcasters to Share International and the Reappearance information, and to provide them with background and context should they have the opportunity to report on Maitreya's emergence. The team plans to generate a second such outreach targeting those who cover social/economic issues. |
Find out what's happening
in your region.
Use
this map
to locate your region and
view upcoming events.
CONTENTS
• Maitreya's priorities
• Evidence of Maitreya's Presence
• Miracles throughout the world
• The Day of Declaration
• The Ageless Wisdom teachings
• Transmission Meditation
• The Promise of the Future
• Benjamin Creme: a messenger of hope
• How you can help

Read more