Preparing the future
by the Master —, through Benjamin Creme
Towards the end of an Age and the beginning of a new Cosmic cycle, everything begins to fall apart. The old and tried ways of living no longer work or meet the needs of an advancing humanity. Certainty gives way to uncertainty, the known has lost its power to convince, and men feel bewildered, lost and filled with fear. Thus is it today as we stand, baffled, in this transitional phase between the old Age of Pisces and the new Aquarian dispensation.
The Aquarian Age will last approximately 2,350 years and will bring much benefit to men as its energies mount in potency over the centuries. However, at present, the old ways of Pisces, outworn but not as yet outgrown, still hold sway and determine the thoughts and actions of the majority of men. This being so, countless millions are held in thrall by the actions of those leaders whose nations are powerful and dominant at the present time. Thus is this a time of upheaval and stress, disharmony and strife.
That this troubled time will not last much longer you may be assured. Already, the signs of change are evident to Us, your Elder Brothers. We see clearly the outlines of conditions altogether different from those that now prevail. We see a world at peace, a world where justice reigns, where freedom adorns the lives of men and women everywhere. We know that the present ills are transient and passing, that the time is not far off for the light of the New Dawn to illumine men's lives and challenge them to action. We know also that men in their hearts are ready and longing for change, and will rise to the challenge with eagerness and will; they await only inspiration and guidance.
That inspiration and guidance Maitreya is eager to bestow, in full measure and more, as He awaits the appointed hour which, by karmic law, allows Him to proceed.
Then will the Great Lord enter, openly, the domain of men. Then will He challenge the assumptions of the men of power and wealth. Maitreya will speak for the millions without a voice; for the destitute and hungry who live in anguish from day to day; for those who languish in the prisons of the world for daring to challenge the edicts of their 'betters'. He will speak for all men who love justice and liberty and will raise His voice aloud in their cause. He will temper the wrath of those who govern by war; He will seal for ever the door through which war enters and defiles the realm of man. All this, through men, He will accomplish, and so restore sanity and peace to Earth.
Calmly, and with purpose, He prepares the golden future, the inheritance of men, and gathers together the 'shining lights', the men and women who will fashion that future.
* The words 'men' and 'man' are used throughout the Master's articles as general terms meaning humankind.

In the November issue
This month's issue contains an interview between

Share International's

chief editor, Felicity Eliot, and Professor Jeffrey Sachs, an American economist, academic, and public policy analyst. He is known for his work on various forms of sustainable development and the fight against poverty. Over the course of decades in public service he has also served as Special Advisor to three of the UN Secretaries-General as well as to heads of state including some in Eastern Europe and Russia. He presents a well-informed perspective on the Russia-Ukraine war that our readers are unlikely to find in any mainstream media or governmental proclamations. By publishing this interview,

Share International

is not stating or implying a 'position' on the war but simply providing what it believes is a balanced analysis from a credible source. You may read the article here.
Benjamin Creme speaks on the existence of Guardian Angels, the Evolution of Consciousness within form and the Seven Rays of Divine Manifestation.
Transmission Meditation – the scientific path to perfection
| | |
| --- | --- |
| " | In the New Age of Aquarius, into which we are moving, Transmission Meditation will be found to be the scientific path for all disciples and aspirants to discipleship, to evolve to become a perfected Master. And in this Age, there will be a tremendous speeding up of evolution because so many Masters will be living among us and Their tremendous spiritual energy will be poured out into the world. Whether we know it or not, that is really why we do Transmission Meditation. |
— From

Transmission: A Meditation for the New Age
We have recently launched the (6th) edition of Benjamin Creme's book,

Transmission: A Meditation for the New Age

. This newest edition includes a talk and Q&A on Transmission Meditation that appeared in the January 2012 issue of

Share International

magazine, along with various questions printed elsewhere since the publication of the 5th edition in 2006.
You can purchase this newest edition at the Share International USA Storefront and receive a 50% discount off the paperback and eBook versions using the coupon code

TM50

. This discount will expire on January 31, 2023.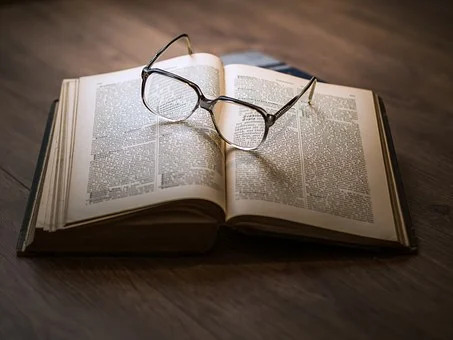 The Share International USA online bookstore carries all of Benjamin Creme's print, audio and e-books, CDs & DVDs, and free downloads of four key titles.
Order with all major credit cards at the Storefront, share-ecart.com. Checks and money orders are no longer being accepted. If you have questions please use our contact page.
Share and Follow us on Facebook!
Our USA Facebook page has over 300 ready-made posts with beautiful images, timely quotes and links to the source of the quotes in Benjamin Creme's books and Share International magazine -- a post to share almost every day of the year. Don't wait for the one we send each month! Go to the Share International USA Facebook page, scroll down to 'Photos' and click 'See all'. When you click on your choice for today it will open up ready to share. In these difficult times, we urge you to post these reassuring quotes regularly.

These images are meant to be shared 'as is.' Please do not edit them in any way.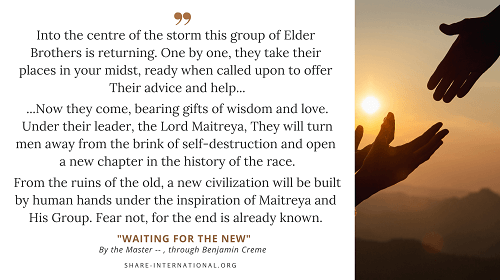 Share International LIVE

webinars offer programming in three series: (1) The Imperative of Change: Towards a sane and just world; (2) The Reappearance of Maitreya the Christ and the Masters of Wisdom; (3) Interviews and dialogues with a variety of interesting people working on various fronts to improve the quality of human and planetary life.
This programming is designed to introduce our information to the widest possible audience outside the 'walls' of Share International. It's a convenient way for

everyone

receiving this newsletter

to do regular outreach right from their own computer or smart phone. Simply forward the announcements of upcoming webinars to some new people/groups each time. If you are not receiving these email announcements directly, you can sign up here.
A few of the past webinars are also posted on the Share International LIVE website –

another opportunity for you to share this information

.
North American programming:
The following events present wide-ranging information about the emergence of Maitreya and the Masters of Wisdom. Their content offers perspectives on how this is impacting our world today.

Please pass this information on to some new people

:

•

What in the World is Happening?

– a monthly webinar.

Saturday, November 12

– "Environment and Consciousness – Restoring the Integrity of Life"
To watch the

livestream

: Facebook, YouTube, or Register for Zoom link.
Many past episodes are available from Facebook and YouTube.



•

Planetary Makeover

– A collection of audio and video interviews on a wide range of topics.
"Science and the Expansion of Consciousness – from Atom to Cosmos – The Evolutionary Plan"
"The Environment is One of Maitreya's Priorities"
Scroll down to view these and other shows. https://planetarymakeover.org/all-videos
New videos
"Maitreya y los Maestros de Sabiduria"


Share International's Spanish-language team (Share Latina) has just completed a 1-hour, Spanish-language presentation on the Emergence of Maitreya and the Masters of Wisdom, Maitreya's priorities, His messages and the Hand. Further subjects include the Day of Declaration and Transmission Meditation. The program concludes with a reading of Message No. 140. It is now available worldwide on YouTube. This presents an excellent opportunity to share our message with Spanish-speaking communities – particularly people

living

in Latin America, an area that has been somewhat difficult to reach. More information and downloads are also available at Share-International.us/espanol.
"Timeless Voyager interviews Felicity Eliot"
Bruce Holms, who formerly interviewed Benjamin Creme for his radio program in 1992, has now done a video interview with

Share International's

chief editor. Watch it here.
Regional Outreach
Holistic Expo – Pittsburgh, PA


On the weekend of September 24-25, the Pittsburgh group staffed a Share International informational booth at the Nourish the Body, Mind and Spirit Expo. Volunteers had a number of meaningful conversations with people who were genuinely concerned about the tumultuous times we live in. Most were experiencing the impact of the various crises on a very personal level and were receptive and hopeful to the idea of great teachers returning to help guide humanity into creating a more just and peaceful world. One volunteer gave presentations on the Reappearance and on Transmission Meditation, and lots of handouts on both topics were given away.

Mindfulness Expo – Anaheim, CA


Share International recently had a presence at the Mindfulness Expo in Anaheim, CA for the fourth year. The story of the Reappearance seems to flow into the public's ear with less effort than in the past. The conversations are longer and demonstrate a hunger for information during these complicated times. Also, as other groups have reported, there is particular interest in the Crop Circles and UFO images.
Find out what's happening
in your region.
Use
this map
to locate your region and
view upcoming events.
CONTENTS
• Maitreya's priorities
• Evidence of Maitreya's Presence
• Miracles throughout the world
• The Day of Declaration
• The Ageless Wisdom teachings
• Transmission Meditation
• The Promise of the Future
• Benjamin Creme: a messenger of hope
• How you can help

Read more