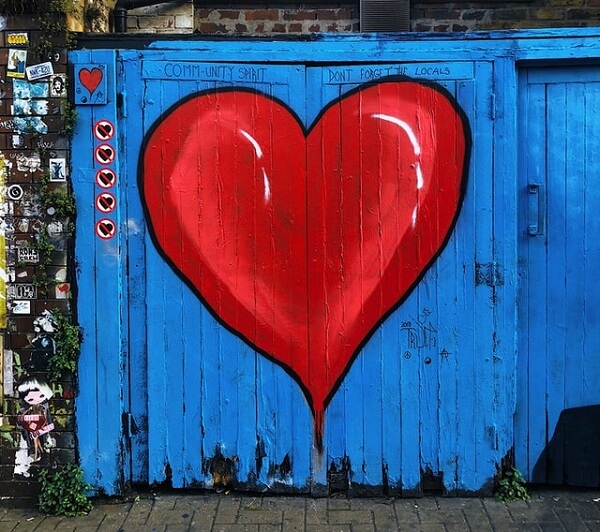 A glorious enterprise
by the Master —, through Benjamin Creme
When humanity sees Maitreya, whether they recognize Him or not, they will feel obliged to support Him or to reject Him and all He stands for: sharing, justice and peace. Thus will men* be divided and known. Thus will the Sword of Cleavage perform its destined task, and thus will Maitreya know the readiness of men for change. Appearing before men as one of them, the Great Lord ensures that men follow and support Him for the truth and sanity of His ideas rather than for His status.
Nevertheless, it matters not whether they recognize Him as Maitreya, as the Christ, or simply as a man whose wisdom coincides with their own aspiration for justice and peace, for a better world for all men.
Gradually, we must assume, many will begin to see Maitreya as the One awaited by all religious groups under their various names, and will call Him thus. Some will say: "He must be the Mahdi," while others will declaim: "Krishna has come again, the law is fulfilled!" Others will ask: "Surely he is the Messiah, come at last," while still others will see Him as the Christ or Maitreya Buddha. All will see Him as their Expected One, fulfilling their hopes and come to fulfill their needs.
Maitreya will neither affirm nor deny these claims nor should those among His workers who believe they have recognized Him. Not until the Day of Declaration will Maitreya acknowledge His true identity and status.
On that glorious day men will know, beyond all gainsaying, that their long wait has not been in vain; that help, indeed, is at hand; that the Teacher is ready to aid and guide. That He comes as an Elder Brother rather than a Saviour, ready to take the lead to save our planet, and to enable men themselves to restore sanity to their lives and ways of living.
Maitreya will show that our problems are many but solvable. That the solution to all is already in our hands. That the simple act of sharing, alone, has the power to transform life on Earth for the better. He will ask for man's trust, as an Elder Brother, that He will not lead them into other than their destined path of harmony and love, that they have nothing to fear but their fear, and that the way ahead already has the blueprint of the Divine.
Thus will Maitreya ease the way for men to embark on a transformation huge in scope, involving all men and women everywhere; a transformation which will launch humanity into a glorious enterprise, the restoration of Planet Earth to its rightful place among its sister planets of our system.
* - The words 'men' and 'man' are used throughout the Master's articles as general terms meaning humankind.

Share International

Magazine
Daily

we are challenged to maintain our equilibrium amidst endless reports of mounting crises. We wonder: how close to the abyss are we today? For most people in the world this may be

all

they see and hear. They are not aware of the extraordinary efforts and projects of 'ordinary' people everywhere. They have never heard of the 'behind the scenes' help we are receiving moment-to-moment from Maitreya and His group. They do not have the benefit of a Master's wisdom and advice. Yet that very information, inspiration, and moral support is the core of Share International's message.
In this time, when the need is perhaps the greatest most of us have ever known, we can be of real help to others by sharing our information in whatever way we can. Two huge ways are (1) subscribing to

Share International

magazine and gifting a subscription or passing your copy on to a person in need of hope; and (2) simply forwarding the Share International LIVE Webinar announcements you receive each month to people you know

outside our network

.
"On all sides there is evidence that the old order is crumbling. Ancient hatreds divide the peoples and lawlessness abounds, but everywhere there are signs that a new spirit is awakening in man, a new sense of responsibility and a renewed reverence for life in all its forms."
Benjamin Creme's Master –

from 'Victory is assured'
In this episode Mr. Creme talks about changes we will see in such diverse fields as education and transportation; how the technology of light will be used not only for energy but also in medicine; how an understanding of our inner divinity will lead to these extraordinary changes in the outer world … and more.
A new freedom awaits humanity
| | |
| --- | --- |
| " | The time is fast approaching when political, economic and religious totalitarianism – denying human freedom, wellbeing, liberty and the human right to believe what one desires – will be over. A new freedom is awaiting humanity just around the corner. But that new freedom has, above all, the necessity of responsibility. We have to take upon ourselves the responsibility for each other. Maitreya puts it very simply: 'Take your brother's need as the measure for your actions and solve the problems of the world. There is no other course.' |
— From

Maitreya's Mission Volume Two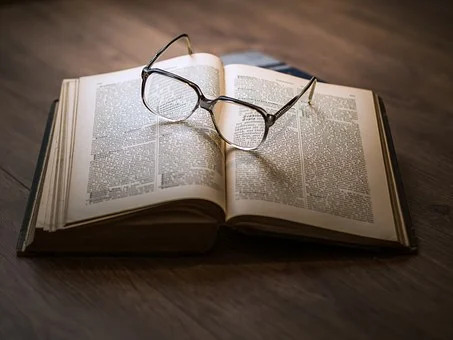 The Share International USA online 'bookstore' carries all of Benjamin Creme's print, audio and e-books, CDs & DVDs, and free downloads of four key titles.
For a limited time offer: purchase Maitreya's Mission, Volume 2 (paperback or e-book) and receive 50% off through March 31st. Simply enter the discount code MM2 at checkout.
Order with all major credit cards at the Storefront, share-ecart.com. Checks and money orders are no longer being accepted. If you have questions please use our contact page.
Share and Follow us on Facebook!
Check out the Share International USA Facebook page for listings of national events as well as a beautiful collection of shareable quotes from Maitreya's Messages, the Master's articles, and Benjamin Creme's books. Click the image here to connect directly with our Facebook page and to like and share these posts on your socials.
These images are meant to be shared 'as is.' Please do not edit them in any way.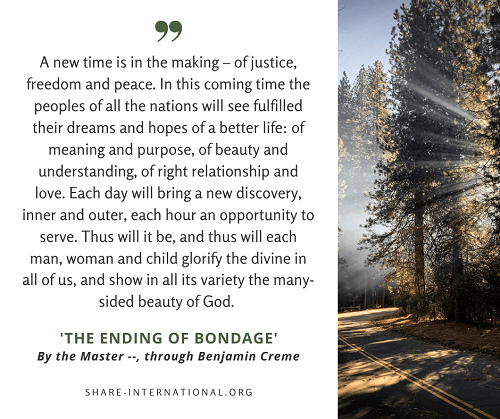 Share International LIVE

webinars offer programming in three series: (1) The Imperative of Change: Towards a sane and just world; (2) The Reappearance of Maitreya the Christ and the Masters of Wisdom; (3) Interviews and dialogues: Share International in conversation with…
Next webinar – April 30

th

. Watch your inbox for details.
View some of the past webinars on the Share International LIVE website.
These programs are designed to introduce the Reappearance message to the

general public

. Much effort goes into each production by co-workers in various parts of the world.

You can help!

Please forward the more detailed announcement you receive to as many people as possible outside the Share International community.
North American programming:
The following events present wide-ranging information about the emergence of Maitreya and the Masters of Wisdom. Their content offers perspectives on how this is impacting our world today:



•
"What in the World is Happening?" – a bi-weekly webinar. Upcoming episodes:
March 12 – "Maitreya and the Sword of Cleavage: Understanding the Polarisation of our Times, Part 1"
March 26 – "Maitreya and the Sword of Cleavage: Understanding the Polarisation of our Times, Part 2"
To watch the

livestream

: Facebook, YouTube, or Register for Zoom link
Many past episodes are also available from Facebook and YouTube.
•
"Planetary Makeover" – a bi-weekly presentation usually with accompanying video.
Show details
Body Mind Spirit Expo – Raleigh, North Carolina
| | |
| --- | --- |
| | The Body Mind Spirit Expo (BMSE) took place on February 26 & 27 in Raleigh, NC. The Expo is still a vibrant venue for holistic/spiritual/treatment/ modalities and information exchange, but it has yet to fully recover its pre-Covid audience. Most attendees were maskless but vaccinated at 90% in Raleigh. A volunteer staffed a Share International booth and enjoyed the mix of people attending, especially on Sunday where rainy, cold weather and other factors made BMSE appealing. A presentation on the Reappearance attracted roughly 25–30 people (the most in 5 years), many of whom subsequently went to our booth to learn more. It was gratifying on many levels. The audience was able to compartmentalize the tumultuous backdrops of the invasion of Ukraine, political issues, the economy, etc. to hear comforting information that gave hope and glorious expectations for the future. |
Find out what's happening in your region.
Use this
map
to locate your region.
CONTENTS
• Maitreya's priorities
• Evidence of Maitreya's Presence
• Miracles throughout the world
• The Day of Declaration
• The Ageless Wisdom teachings
• Transmission Meditation
• The Promise of the Future
• Benjamin Creme: a messenger of hope
• How you can help

Read more