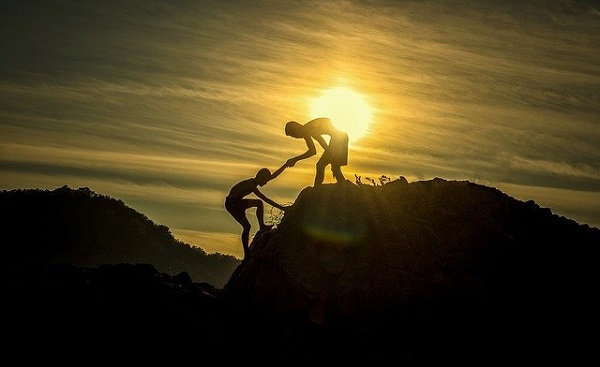 The Teachers and the taught
by the Master —, through Benjamin Creme
Many are the times, throughout his long history, when man has lost his way, but never, until now, has he strayed so far from his destined path. Never, before, has he been in such need of succour, and never, until now, has that help been so readily available. For long ages, the Law has restricted the measure of aid which might be given; man's free will is sacrosanct and may not be infringed. Today, for the first time in countless centuries, more aid can be freely given than ever before. Today, at his moment of greatest need and despair, the bountiful hands of his Elder Brothers can open, and provide the succour he longs for.
All that is required is the request from man himself. All that is needed is the readiness to accept the advice and wisdom of the Brotherhood, and to change direction.
Many at this time of crisis have lost hope and wait fearfully for the end of all. They know nothing of the hope which fills their future and languish in the midst of change. Many more are impatient with the present and seek change at any cost. They feel the future beckoning with they know not what, and champ at the bit in their eagerness to experience the new. All are subject to the influence of the tensions and stress which characterize this time of change, and, in the light of their disposition, react accordingly.
Into this complex situation the Masters make Their approach. They must so act that man's free will is not transgressed, yet seek to help in every way the Law allows. Fine will be the judgement needed in many circumstances and cases until a modus-operandi is evolved acceptable to all.
We, your Elder Brothers, counsel the democratic process, with full participation, as that which brings freedom and justice to each one. Nevertheless, there will be many times when Our age-long experience and vantage point in evolution will be to man's advantage and betterment to accept.
Thus shall we work together, the Teachers and the taught, in harmony and trust; and thus will man learn the ways of the past, of his forefathers, and so bring his aspiration into line with his preordained purpose.
Thus will it be, and thus will man begin to realize the essentials of life, and begin to discard the multitude of useless attachments which today distort his vision, create his unhappiness and threaten his very existence.
Soon, Maitreya, the Master of the Masters, will begin His open mission. Soon, men will be able to hear His teachings and assess them for themselves. Many will find in them the Truth so simply evident that they will quickly join His band of warriors and share His burden. May all who read these words be among them.
The words 'men' and 'man' are used throughout the Master's articles as general terms meaning humankind.

Share International

Magazine
We have been told that the

only

limitation to the Masters' full engagement with us is

human freewill

. We need to

ask

for their help! But, while we always have a choice, positive outcomes only arise when we choose wisely. Doing so requires both a

true

understanding of the errors of the present and past – free of media spin – and a vision of the changes needed in all departments of society based on the divine principles of sharing, justice, right human relations, and sustenance for all. This balance between today's realities and the promise of the future is what gives

Share International

magazine its extraordinary value.
Stay wisely informed about current events while partaking of the magazine's many unique features each month. Consider subscribing for yourself – or purchasing a gift subscription for someone you know.
In the midst of today's chaos and strife, Benjamin Creme speaks about a brilliant future for humanity. Stimulated by the Aquarian energies of synthesis and brotherhood, we will get there with the help of Maitreya and the Masters of Wisdom.
The Light to

guide us
| | |
| --- | --- |
| " | We are out in little boats in the storm, in the dark. We cannot see the stars, we see nothing to guide us. We are rowing against the tide or with the tide, and looking up for a light to guide us. That new light, the light to guide us, is the Christ, if men did but know it. The light of His love and wisdom, the light of His vision of the future; the light of His nearness to the Source of Light and Life Itself. He is here, ready to guide humanity out of the quicksands, out of the torrents, out of the storms which otherwise prevail. In this way, He will set His seal on this time, the time of the return to the world of the Wise Men of the world, the Inspirers, the Guides. |
— From

The Art of Co-operation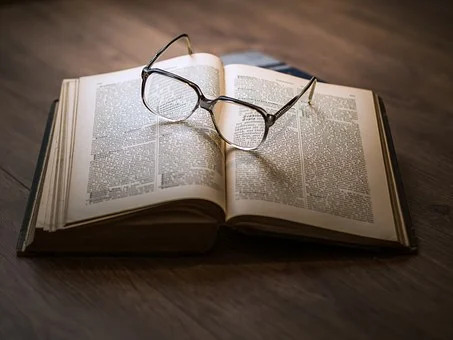 The Share International USA Storefront online 'bookstore' carries all of Benjamin Creme's print and audio books, CDs & DVDs, and free downloads of four key titles.
We are pleased to announce The Art of Co-operation is now available in audio as well as print and eBook versions. For a limited time offer: purchase any version and receive 50% off through January 31st. Simply enter the discount code AOC50 at checkout.
Order with all major credit cards at the Storefront, share-ecart.com. Checks and money orders are no longer being accepted. If you have questions please use our contact page.
Share and Follow us on Facebook!
Check out the Share International USA Facebook page for listings of national events as well as a beautiful collection of shareable quotes from Maitreya's Messages, the Master's articles, and Benjamin Creme's books. Click the image here to connect directly with our Facebook page and to like and share these posts on your socials.
These images are meant to be shared 'as is.' Please do not edit them in any way.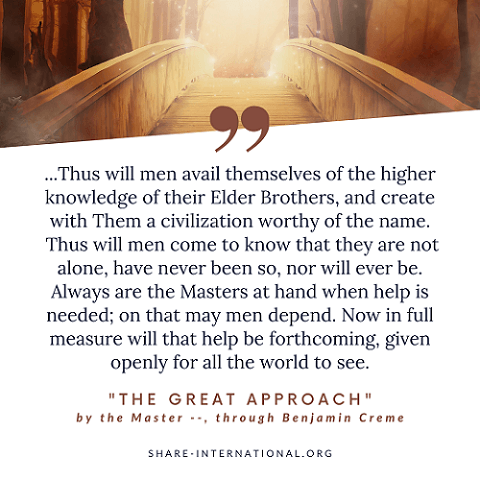 Share International LIVE
webinars offer programming in three series: (1) The Imperative of Change: Towards a sane and just world; (2) The Reappearance of Maitreya the Christ and the Masters of Wisdom; (3) Interviews and dialogues: Share International in conversation with...
Watch your email for announcements of upcoming programs. Some of the past webinars can be accessed at the Share International LIVE website.
North American programming
The following events present wide-ranging information about the emergence of Maitreya and the Masters of Wisdom. Their content offers perspectives on how this is impacting our world today:

•

"What in the World is Happening?"

– a bi-weekly webinar. Upcoming episodes:
January 8 – "Love: A dynamic force to change the world"
January 22 – "Signs of Maitreya's Presence in the world, part 2"
To watch the

livestream

: Facebook, YouTube, or Register for Zoom link
Many past episodes are also available from Facebook and YouTube.
•
"Planetary Makeover" – a bi-weekly presentation with accompanying video
Show details
Online outreach opportunities
"C2C" revisits the past
| | |
| --- | --- |
| | Long-time co-workers will remember that Benjamin Creme was interviewed a number of times on the "Art Bell Show", a very popular late-night radio program dealing with paranormal, alternative ideas, and the unexplained. The successor to that show, "Coast to Coast AM" with George Noory, is now re-opening the "Art Bell Vault" and broadcasting a selection of vintage programs. Up first will be an interview with Benjamin Creme from 1998 where he talks about Maitreya's presence in the world and shares insights on extraterrestrials. Access to this special programming is only available to those who subscribe to the "C2C Insider" service but, given that 23 years have elapsed, this is likely to be a large number of people who will hear our information for the first time. |
Outreach in the time of Covid
| | |
| --- | --- |
| | Over the past two years, most booths, expos and lectures have been cancelled, but with the availability of vaccines and mask mandates, some of the event sponsors are beginning to rebound. Depending on their perceived vulnerability in each situation, some of our groups have resumed their in-person outreach – as we began to report in September. In December, Share International volunteers in New York City tabled at the Awaken Wellness Fair in Tarrytown, New York – an open, welcoming venue. One volunteer gave a power point talk titled "Who is Maitreya?" that covered our basic information. She then showed an early video of Benjamin Creme's press conference in which he described Maitreya in detail. As is usually the case, the information was new to most of the audience, who seemed quite moved at times. |
Find out what's happening in your region.
Use this
map
to locate your region.
CONTENTS
• Maitreya's priorities
• Evidence of Maitreya's Presence
• Miracles throughout the world
• The Day of Declaration
• The Ageless Wisdom teachings
• Transmission Meditation
• The Promise of the Future
• Benjamin Creme: a messenger of hope
• How you can help

Read more