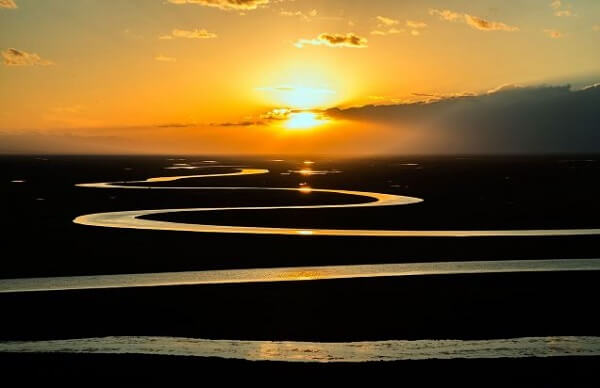 The end of darkness
by the Master —, through Benjamin Creme
Nowhere is division and disharmony more prevalent than on Planet Earth. No other planet of our system is so immersed in competition, so ignorant of the benefits of co-operation. Nowhere else is seen the results of such folly: anxiety, illness of all kinds; wealth and poverty side by side, insecurity and war.
Why should this be so? Why should the inhabitants of this most richly fertile world quarrel so over its ownership?
To some extent the answer lies in the very richness of Earth's resources. Earth is the most densely material of worlds and for long ages men have been in thrall to its material wealth, and have fought and competed for its control. This has brought the human kingdom (and with it the animal) to the verge of destruction. With the nuclear bomb man has brought his very existence into jeopardy.
It is this fact above all which has prompted Maitreya's decision to return with His group to the everyday world, at least a thousand years ahead of the planned date. His aim is to coax men back from the brink, to show them how dangerous and destructive is their lust for power, their greed and competition.
He will outline for them a simpler way, the way of co-operation, justice and trust.
Many there are today who, in their hearts, renounce the iniquities of the present materialism which pervades the planet. They long for justice and peace and march and demonstrate for their fulfilment. More and more, the peoples of the world are beginning to recognize that together they have the power to change the actions of powerful men. Thus does Maitreya trust the people and gives voice to their demands. Thus does He join their marches and adds His voice to theirs.
Amid the general avarice there is, too, an awakening of conscience among politicians and others in several countries. The debts of the poorest nations are being cancelled and a new approach to the grinding poverty of so many is taking place. The fruits of twenty years of labour are beginning to ripen. Maitreya's beneficent energies are working their magic and a new spirit is gaining strength.
Thus the attitudes and habits of countless ages are beginning to crumble before the tide of new and unstoppable energies wielded by Maitreya and His group. Men need have no fear; the meek, indeed, the poor, the powerless, the toilers everywhere, shall inherit the Earth. Men will learn the beauty of co-operation and service and one by one the bastions of power will fall. The empires of power and wealth will disappear as the new urge for sharing and oneness grips the minds of men. Thus will it be and thus will man regain his sanity and start the climb again.
* The words 'men' and 'man' are used throughout the Master's articles as general terms meaning humankind.

In the December issue
Excerpt from "The Kingdom of God" by Aart Jurriannse
"… It is through the concerted and sustained efforts of all those who are spiritually inclined, of all men and women whose hearts are guided by love and goodwill, that mankind as a whole will be uplifted. In this respect each disciple will make his own contribution, each according to the Light he has received, according to the qualities and aptitudes with which he has been endowed, and each according to his particular circumstances as determined by time and place. People must be brought to the realization that the Kingdom of God will only be found by recognizing its presence; that this Kingdom must not be sought for in outer appearance, but that it will primarily be found by recognizing the Christ within the heart. Therefore do not hesitate to express the energies of Love and Goodwill with which you are inspired – they will provide the opportunities for which to live, to work and to serve, and for fulfilling your dreams and aspirations, thus contributing your share to make this a better world for all and for the final manifestation of the Kingdom of God on Earth." (Source:

Bridges

, ISBN 3-929345-11-0, Bridges Publishing, Freiburg, Germany, 2001, 2007. www.bridges-publishing.de)
Benjamin Creme reads his Master's article "The Son of Man" which speaks to the distorted view of the Christ that has been presented for centuries by the churches, and Christ's priorities for this New Age including the removal of guilt and fear from the hearts and minds of all humanity.
Maitreya – the Avatar of Love
"

There has never been an Avatar better equipped for His task than Maitreya. There has never been a need for such an Avatar, but this world is now so complex, so divided, so riddled with both good and bad, positive and negative, that all of these forces have to be reconciled. This is His aim, this longing in the heart of the Christ for unity, for using His powers, His insights, to establish His nature, which is love, in the world. In this way He teaches us how to love and, as the Master says,

"love again."

To love again is not to love in a normal, reactive sense, but to love totally, unconditionally, in the way that the Masters do. This will establish the brotherhood of man.
— From

Maitreya's Mission, Volume Three
Suggested reading: In pages 17-39 Benjamin Creme comments on each of the Master's statements in "The Son of Man."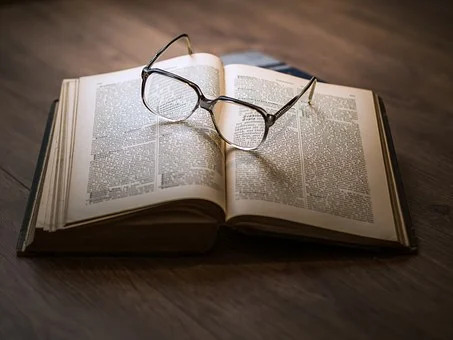 The Share International USA online 'bookstore' carries all of Benjamin Creme's print, audio and e-books, CDs & DVDs, and free downloads of four key titles.
For a limited time offer purchase Maitreya's Mission, Volume Three (paperback or e-book) and receive 50% off through December 31st. Simply enter the discount code MM350 at checkout.
Order with all major credit cards at the Storefront, share-ecart.com. Checks and money orders are no longer being accepted. If you have questions, please use our contact page.
Share and Follow us on Facebook!
Our USA Facebook page has over 300 ready-made posts with beautiful images, timely quotes and links to the source of the quotes in Benjamin Creme's books and Share International magazine -- a post to share almost every day of the year. Don't wait for the one we send each month! Go to the Share International USA Facebook page, scroll down to 'Photos' and click 'See all'. When you click on your choice for today it will open up ready to share. In these difficult times, we urge you to post these reassuring quotes regularly.

These images are meant to be shared 'as is.' Please do not edit them in any way.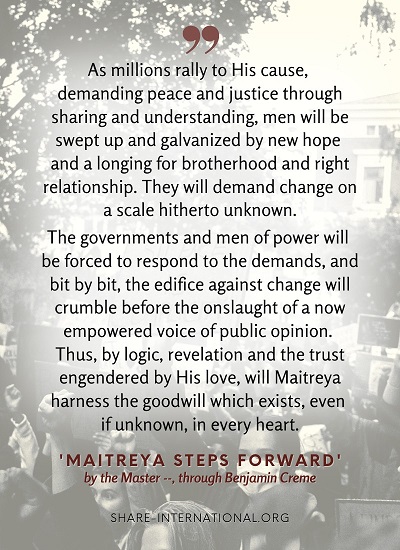 Share International LIVE

webinars offer programming in three series: (1) The Imperative of Change: Towards a sane and just world; (2) The Reappearance of Maitreya the Christ and the Masters of Wisdom; (3) Interviews and dialogues with a variety of interesting people working on various fronts to improve the quality of human and planetary life.
A few of the past webinars are also posted on the Share International LIVE website –

another opportunity for you to share this information

.
North American programming:
The following events present wide-ranging information about the emergence of Maitreya and the Masters of Wisdom. Their content offers perspectives on how this is impacting our world today.

Please pass this information on to some new people

:

•
"Planetary Makeover" – A collection of audio and video interviews on a wide range of topics including...
"The Evolutionary Plan — Spiritual Energies are Now Speeding Up Crisis Resolution"
"The Awakening of the Heart of Humanity is the Solution"
Scroll down to view these and other shows. https://planetarymakeover.org/all-videos
The esoteric art of

Benjamin Creme