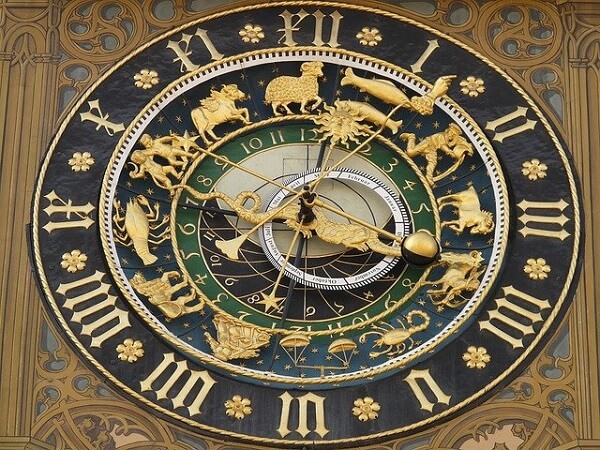 The beginning of the new time
by the Master —, through Benjamin Creme
Patiently, We, your Elder Brothers, await the response of men, knowing, as We do so, that the vast majority of people, when they know and understand the true situation now present on Earth, will agree that only radical change will forestall calamity.
One problem has been that the average person knows little of the enormous vested interests which control the affairs of men, and which, for the most part, work against the needs and rights of countless millions. At the moment, 80 per cent of the world's wealth is owned by a small number of families and institutions. Much of that wealth is static, invested in estates, ships, gold, jewels and works of art, benefiting thereby but few. Such imbalance confounds the efforts of governments everywhere to establish societies based on relative social justice.
So old and so entrenched is this imbalance that only a Herculean effort or world economic disaster will shake its hold. Faced with this situation, governments are at a loss to manage their nation's affairs and, simultaneously, compete with others for markets. The result, inevitably, is recurring chaos, instability, and a chronic lack of money for essential services and foreign aid. The world's poor continue to suffer, therefore, and pray silently for change. Some, less silent, join the growing number of the world's terrorist groups.
How then to break this vicious circle of inherited wealth, stagnation and revolutionary hatred and violence?
Maitreya, on His emergence, will address this problem and show its mechanism and negative effect on all aspects of life, national and international. He will show that only a just and fair distribution of the world's wealth will realize the peace that all desire. That sharing alone will create the trust that makes such a distribution possible. That men have no alternative: all other ways have been tried and have failed — and the sands are running out.
Thus will the Great One speak. Thus will He raise the consciousness of men and help them to understand the reasons for their plight. He will show that such imbalance is insupportable in a world so interdependent and facing so many perilous problems. That only a rational transformation of our now defunct structures will allow men to advance into the future and to build a civilization worthy of the name.
When men hear His words they will divide into three groups: one will, with full heart, respond to His thoughts and answer His appeal for their engagement. One will form a blockade of opposition and affront. A third, smaller, number will sit, anxiously, aside.
Gradually, it will become obvious that change must be tried, at least, and some experiments will be undertaken. This will convince many of the feasibility of sharing and lead to the Day of Declaration, the signal that the New Time has begun.
The words 'men' and 'man' are used throughout the Master's articles as general terms meaning humankind.

Share International

Magazine
Beginning with this issue of the newsletter we will no longer be linking to some of the articles in

Share International

magazine as we have been doing for many years. Instead we will provide a link to the current Table of Contents along with a summary from the editor. In addition you can see a list of articles from previous issues that shows the wide range of topics the magazine covers each month.
Beyond this you will see there is no publication quite like

Share International

. Where else can you find:
| | |
| --- | --- |
| • | An article by a Master of Wisdom |
| • | Questions answered by founding editor Benjamin Creme, trained by a Master of Wisdom |
| • | Letters from readers who describe their extraordinary encounters with Masters or Their representatives |
Share International'

s most important role is bringing to the world a powerful message of hope about Maitreya's and the Masters' presence among us now. As it accepts no advertising and is produced entirely by volunteers, each subscription helps keep the magazine going. Please consider subscribing – or purchasing a gift subscription for someone you know.
HOLIDAY SPECIAL

: Felicity Eliot in conversation with Jeremy Lent, author of

The Web of Meaning – Integrating Science and Traditional Wisdom to Find our Place in the Universe

(1:20:32)
Millions ready to

choose Peace
| | |
| --- | --- |
| " | To the average onlooker, the world is torn and dominated by those who do not share the vision of peace, who see only opportunities for wealth and power in every conflagration. While these are many, the majority of men are tired of the uselessness of war, and seek strategies to put an end to such folly for ever. In their hearts burns the hope of a new time of peace and progress for all. These people, in every country, represent the hope of the world. It is to them that Maitreya will address Himself on His emergence. It is to them that He presents the vision of the future, even now. They, in their many millions, will quickly respond to His advocacy, and set alight the hope of all. |
— From

A Master Speaks, Volume Two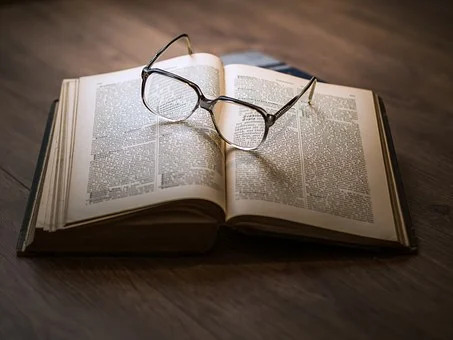 The Share International USA Storefront online 'bookstore' carries all of Benjamin Creme's print and audio books, CDs & DVDs, and free downloads of four key titles.
For a limited time offer: purchase A Master Speaks Volume Two book and receive 50% off through December 31st. Simply enter the discount code AMS250 at checkout.
Order with all major credit cards at the Storefront, share-ecart.com. Checks and money orders are no longer being accepted. If you have questions please use our contact page.
Share and Follow us on Facebook!
Check out the Share International USA Facebook page for listings of national events as well as a beautiful collection of shareable quotes from Maitreya's Messages, the Master's articles, and Benjamin Creme's books. Click the image here to connect directly with our Facebook page and to like and share these posts on your socials.
These images are meant to be shared 'as is.' Please do not edit them in any way.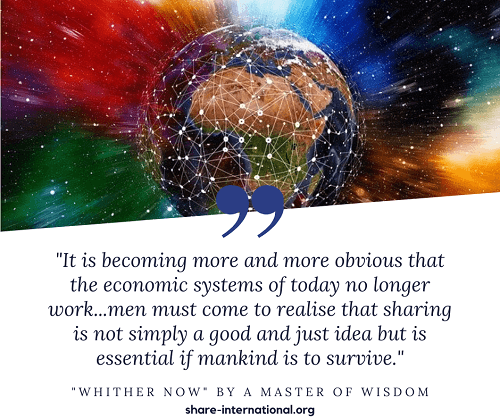 Share International LIVE
webinars offer programming in three series: (1) The Imperative of Change: Towards a sane and just world; (2) The Reappearance of Maitreya the Christ and the Masters of Wisdom; (3) Interviews and dialogues: Share International in conversation with...
Last program for 2021,

Saturday, December 11

– "Towards a New Sharing Economy – Part 2". Watch Part 1 here.
Check your email of 11/23 for the program description and registration link. Subject line: Share International Webinar - December 11, 2021.
North American programming
The following events present wide-ranging information about the emergence of Maitreya and the Masters of Wisdom. Their content offers perspectives on how this is impacting our world today:

•

"What in the World is Happening?"

– a bi-weekly webinar. Upcoming episode:
December 25, Noon MT (adjust for your time zone) – "Eight Great Spiritual Facts of Life" (re-broadcast)
To watch the

livestream

: Facebook, YouTube, or Register for Zoom link
Many past episodes are also available from Facebook and YouTube.
•
"The Awakening of Humanity: 2021" – a 3-part video presentation on Maitreya and the Masters of Wisdom, Maitreya's priorities and spiritual teachings.
www.Shareinternational-west.org
•
"Planetary Makeover" – a bi-weekly presentation with accompanying video
Show details
COP26 Press Release
| | |
| --- | --- |
| | Our Media Team wrote and distributed a press release just prior to the November COP26 Climate Conference in Glasgow, entitled "Sharing Resources: Key to COP26 Success." Media co-workers distributed the release to approximately 2,000 media outlets in the U.S., and it was also distributed by two media distribution services – one in the U.S. and one in Canada. According to the U.S. service, it was listed on 13 newswires, plus over a dozen content partner links, the AP News public website, and Google and Yahoo search engines. It was picked up by 80 newspapers and 7 Radio/TV stations in the U.S. alone. The Muncie Voice, an alternative news outlet in Muncie, IN, with over 52,000 global subscribers, published the release on the home page of its website. Thanks to all our media workers for being an important part of this successful news campaign! |
The 2021 Parliament of the World's Religions
| | |
| --- | --- |
| | The Parliament of the World's Religions took place online, for the first time, during the weekend of Oct 16-18. Four thousand people attended over 500 virtual talks presented by 1,400 speakers, among them Vandana Shiva, Jane Goodall, and the Dalai Lama. Two Share International co-workers gave a presentation on "Unifying Spiritual Art and Great Hope for the Future." Share International had a 'booth' and an 'art gallery' displaying Benjamin Creme's paintings. The booth featured a video of Creme reading "The Son of Man", as well as links to four downloadable books, Share International magazine, the US website, and our YouTube channel. International co-workers staffed the booth around the clock: 27 volunteers – speaking six languages among them – made over 50 connections with attendees. Over 70 individuals visited our booth and provided an email address for further information. After the Parliament they received an invitation to the webinar with Felicity Eliot and Jeremy Lent. The next Parliament will be held in Chicago in 2023. |
Find out what's happening in your region.
Use this
map
to locate your region.
CONTENTS
• Maitreya's priorities
• Evidence of Maitreya's Presence
• Miracles throughout the world
• The Day of Declaration
• The Ageless Wisdom teachings
• Transmission Meditation
• The Promise of the Future
• Benjamin Creme: a messenger of hope
• How you can help

Read more